First off, I would not change my culture for anything. I am biased, but it is the best culture I could have grown up with because it shaped who I became. If it was not for my strict, Mexican parents who kept in line all those years, I would not have worked as hard as I have. With this being said, here are some things that really stand out when one grows up in a Mexican household:
1. You could not get permission to go out unless you completed a chore first
At least in my home, I had to always do something in order to get permission granted to go out with friends. Whether it was washing the dishes or mowing the lawn, freedom did not come easy.
2. AN ALLOWANCE WAS NOT A THING
Yes, you heard me right. Mexican parents do not believe in paying their children for something that "they have to do." When I was little, I used to think that my parents had children just for the kids to do things for them.
3. You never fully grow up
Whether you are 10 or 25, you still have to ask for permission and your mother will continue to tell you what to do.
4. There was no such thing as not finishing your food
You were too full, but there was still food on your plate? Too bad! You had to find space in your stomach to fit because throwing food away does not fly.
5. Going to a party, parents say we are leaving, that means another two hours
I know. Sounds dumb right? Trust me on this one. Leaving a party or gathering does not mean what you think it means. We have to say bye to each person at the party and carry out a full conversation about God knows what, so when we are "leaving" we stay a whole lot longer.
6. The butter Tupperware is not actually butter
Mexican mothers love to trick their kids into believing that Tupperware from one brand is actually frijoles!
7. Vicks Vapor Rub is the cure for all
You have a headache? Vapor Rub! You broke your ankle? Vapor Rub! You have a broken heart? Vapor Rub!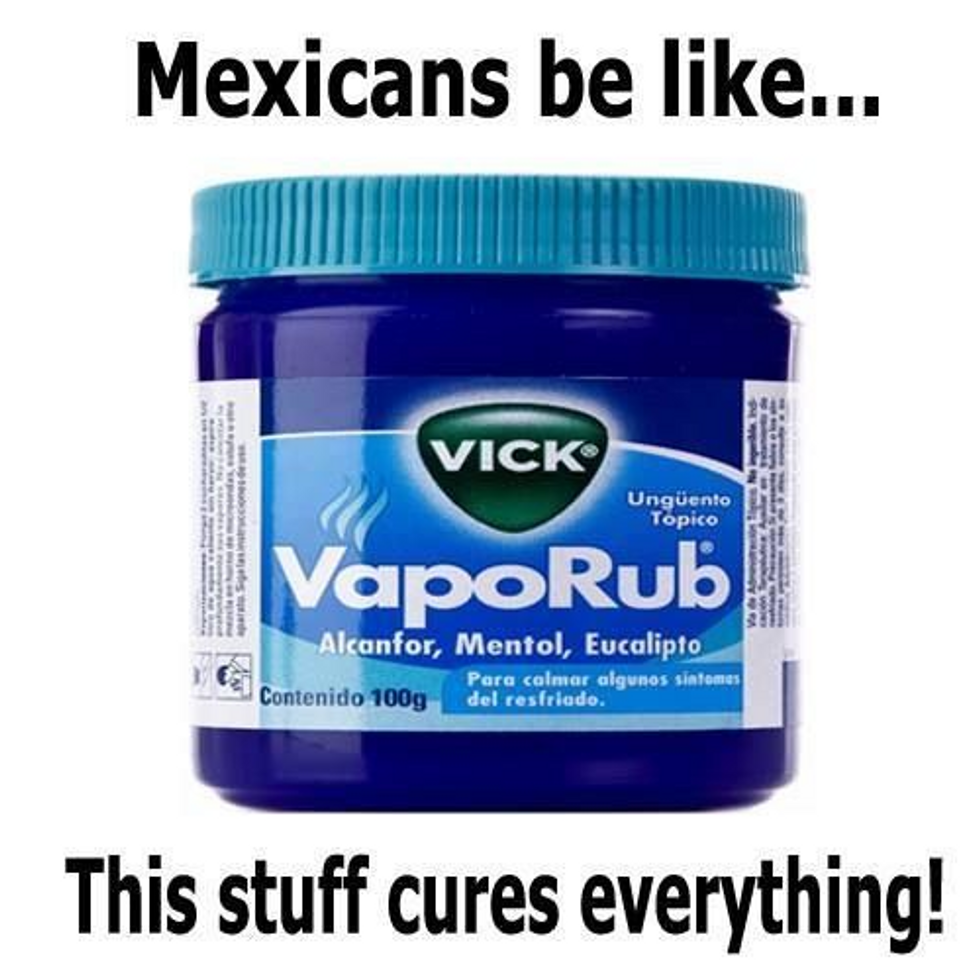 8. Having a boyfriend is not allowed until you are 30
This applies to fathers more than mothers, at least in my case, but yeah having a boyfriend was more like an "amiguito" (little friend).
9. No such thing as sleepovers
If it was already difficult to just hang out with friends for a few hours, imagine asking to sleep over? Nambre! You would probably have to go doing chores for a year.
10. Watching novelas after school
You started off with the "kids" novelas at 4 pm and going on to the adult ones as the night progressed.
11. "La Rosa de Guadalupe" taught you the lessons you needed to know
Watching the white rose disappear as the person in the show either learned their lesson or their prayer about someone else learning their lesson came true was the highlight of your day.
12. Eating fast food was magical
All because your mother would always convince your father that there was food at home.
13. There is no such thing as the soap running out
Don't you dare tell your mother there is no more soap because she will quickly fill it up with water and bam, more soap magically appeared! Honestly all for saving money.
14. Small gatherings did not exist
Either you invited the whole family and neighbors and friend of the neighbors, or you did not have a gathering at all.
15. There was no privacy whatsoever
Whether it was your mother or your grandmother, they always snooped around your room or car to see what they could find just to have something against you.
If you are not Mexican, you probably think all Mexican kids were deprived of fun and of a childhood, but to be honest I loved growing up like this. Looking back at my childhood and while writing this article, it reminded me where I came from and how much all these things shaped me for the better. Whatever culture you are, we have those little things that we can point out but in the end they make you the person that you are today.