The holidays are on their way, and what better way to celebrate than outdoor, festive fun? Here are 15fifteen things to do in the Philadelphia area this holiday season.
1. The Christmas Light Show at Macy's in Center City

Running all through December, Macy's light show illuminates an entire wall in the historic Wanamaker building to retell Charles Dickens' classic, A Christmas Carol. Over 100,000 LED lights are in the works and are accompanied by music from the magical Wanamaker organ. Check it out!
2. Franklin Square Festival and Holiday Light Show

A tradition at Franklin Square in Philadelphia, this is a free holiday festival and lights show for all ages! All the way through December, visit and enjoy the Electrical Spectacle, a winter beer garden, and more!
3. Ice Skating! At Penn's Landing...and Dilworth Park!
There's more than one place to ice skate this winter in Philadelphia. While the Winterfest at Penn's Landing has an Olympic-sized rink, Dilworth is quaint and adorable and right in the middle of the city! Check out both this year!
4. The Christmas Village

Located all around City Hall this year (since LOVE park is under renovation), the Christmas Village is an annual outdoor market filled with food, presents, and cozy knit hats and sweaters and more for purchase. Stop by the ice rink while you're there!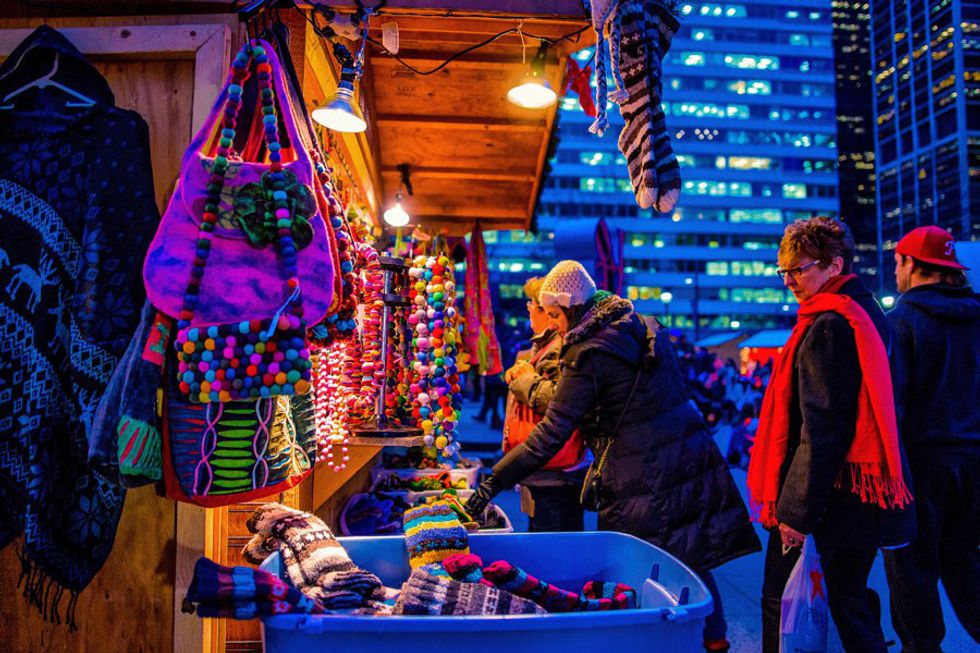 5. Made in Philadelphia Holiday Market

Also located around City Hall at Dilworth Park, there's even more holiday shopping to do. All goods sold are local artists and craftsmen, designers, and even confectioners! Go get some Philly-made deliciousness! (Or, some awesome Christmas gifts. You might see me there!)
6. Reading Terminal Market Holiday Railroad

The historic indoor food market does even more for the holidays, crafting a 500 square foot holiday railroad track inside! There are 17 working train lines and miniature scenery. Altogether, the spectacle is almost a third of a mile! And, it's Reading Terminal Market. Go get some holiday treats!
7. Adventure Aquarium's Christmas Celebration

From December 3rd to the 31st, the aquarium turns holiday themed for it's annual Christmas celebration. Experiences include huge decorations, falling snow, and the Scuba Santa!
8. Pennsylvania Ballet, The Nutcracker

A personal holiday favorite of mine, come down to Avenue of the Arts and see the ballet! Running from December 9th to the 31st. You don't want to miss it! It's all the magic as usual!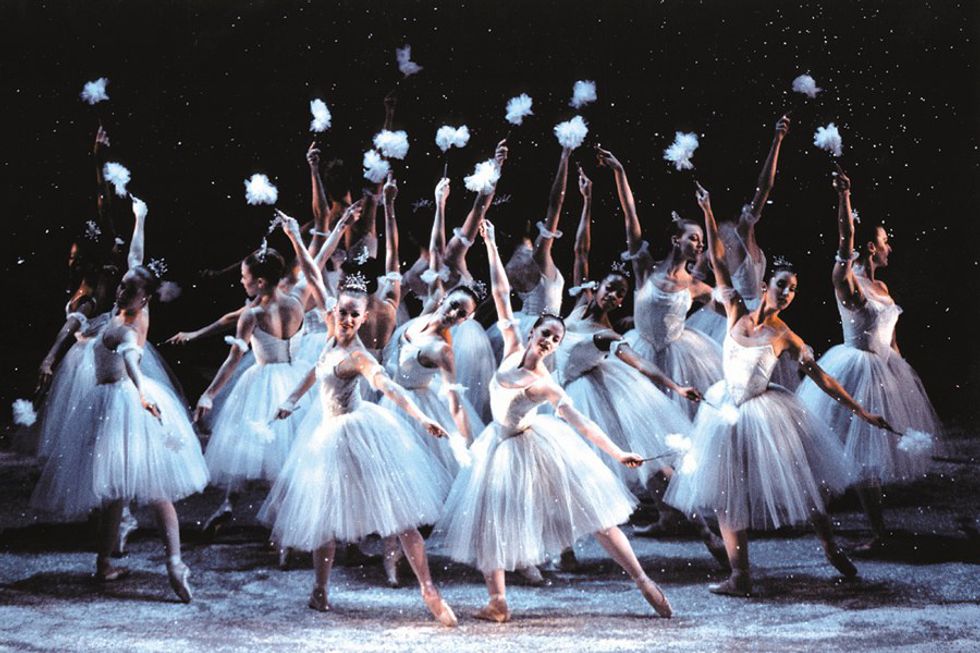 9. Rittenhouse Square Christmas Tree
While the ceremonial lighting has already passed, you can still come through the beautiful park and see the brightly, beautifully lit tree and all the twinkling lights strung around! I'm usually there for the dogs, so there's that, too.
10. Christmas in Fairmount Park

Philadelphia is home to tons of American history, and these mansions are no exception. There are six 18th- and 19th-century mansions located in the Fairmount Park area, and they're beautifully decorated for the holidays! Go visit and enjoy some live music, performances, and other fun activities for adults and children. And, learn some history!
11. The Holidays at the Philadelphia Museum of Art

Festivities including an ugly sweater party and caroling through the exhibits! Stop by the famous art museum, run up the steps, and come inside to see the museum lined with Christmas trees for the season! (Wednesday after 5 pm is pay what you wish!)
12. Longwood Gardens' Christmas

I'm personally excited for this one! During the holidays Kennett Square decks itself out for the festivities with lots of red, white, and greenery. There are elaborate decorations and twinkling lights that you don't want to miss!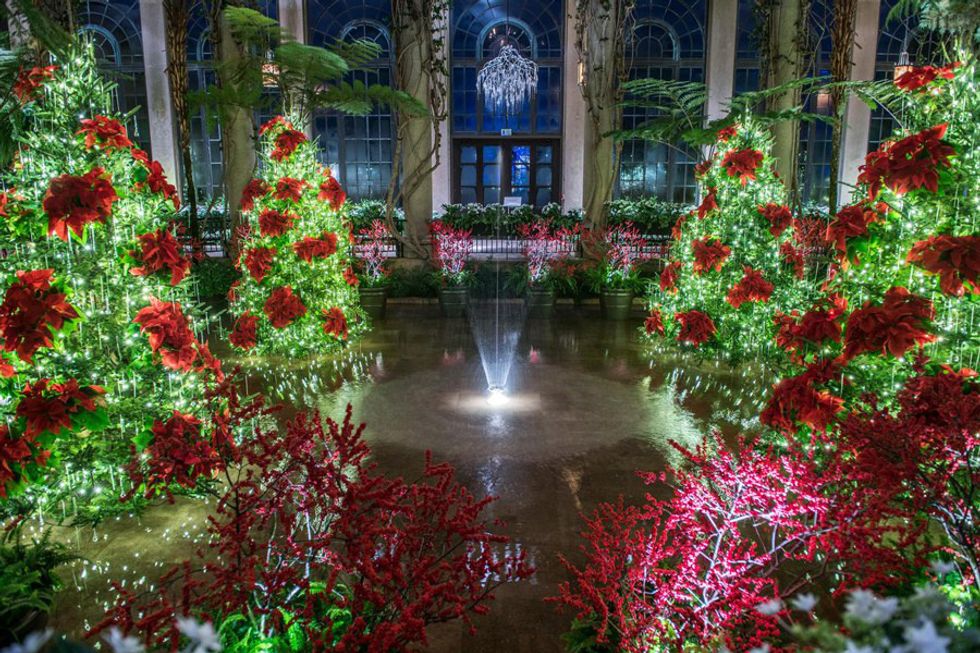 13. Holiday Light Show at Shady Brook Farm

Take a stroll through the little market and grab some cocoa, then hop back in your car or an open-air wagon to experience overhead lights and huge LED displays! All holiday themed, of course!
14. Washington Crossing Reenactment

If you're a history nerd like I am, trust me when I say you'll love this! The first reenactment of Washington crossing the Delaware happens on December 11th, but the notable day is the Christmas Day reenactment when it really happened. You'll see an inspiring speech and get to witness Washington and his troops cross the river in replica Durham boats. (Just remember - the event is weather permitting!)
15. Mummer's Parade

Top off the holiday season with the annual Mummer's Parade on January 1st! It's bigger and better every year!
For even more things to do over the holidays in Philly, click here!