It's that time of year of again where everything and everyone is full of Christmas cheer — everything except one thing: your bank account. You want to be able to give your friends and family gifts and show them how much they mean to you, but it's kind of hard when you have 5 cents to your name.
No worries, thanks to the lovely Pinterest and some creativity you can still be giving this holiday season.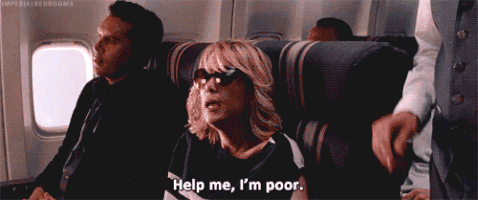 1. Blankets
Just go to the nearest fabric store, pick out your favorite fleece material, and cut and tie into a nice cozy blanket. It's SO easy, comfy, and most importantly CHEAP.
2. Picture Collage
Develop however many pictures you want, and create memorable collages. It's a way to look back at all the good times you've had with that person and a kind gesture that anyone would enjoy.
3. Baked Goods
Break out your apron, Rachel Ray skills, and Google to figure out how to make homemade cookies, cake, or food of your choice. You can't go wrong with some sweets.
4. Letter/Card
This is probably one the most inexpensive gifts on this list. A heartfelt card or a letter to someone telling them how much they mean to you might just be better than a fifty- dollar gift card to Red Lobster.
5. Face Scrubs
From Green Tea to Coconut Oil, you can whip up a great skin care product as if it came from Lush cosmetics. https://www.pinterest.com/explore/homemade-face-scrubs/?lp=true
6. Canvases
Release your inner Van Gogh and paint an inspirational quote or a picture for someone. It might be their next home décor or something stowed away in a closet, but either way, it will be appreciated.
7. Jewelry
It might not be an Alex & Ani bracelet, but I'm sure you can still make something cute and worth wearing.
8. Ornaments
Throw glitter, paint, sequins, anything sparkly and pretty and it will for sure be on the person's tree you give it to.
9. Pottery
Your mom will ADORE that bowl or plate you make her, even if it's not the fiesta ware she put on her Christmas list.
10. Soap
Another easy, yet doable craft that will leave the person smelling good, clean, and happy.
11. Dog Treats
You can't just not get your dog something. Anything with peanut butter involved and your pet will love you forever.
12. Customized Cups
Write anything you want on a mug with sharpies from a quote to an inside joke. Bake the mug at 250 degrees for 30 min and it will stay on permanently.
13. Keychains
Make them something that they would want to put on their car keys and look at every day. It's little and will cost you 5 dollars at the most.
14. Trail Mix
Another food item that you can throw together easily and can get the items at your local dollar store.
15. Coffee Stirring Spoons
Plastic Spoons, Chocolate, Sprinkles. Boom, Done.
All of these recommendations are not time-consuming at all, and most definitely in a college student's price range. Homemade gifts are more meaningful too, so you can still be able to not only receive, but give as well this year.