"There is nothing as important as Sleep for Cats."
You may get a bit frustrated with finalizing their bedding, due to their special requirements. Cats sleep for about 16 to 20 hours, and so, Bedding is an important aspect if you are planning to have a kitty! Before you head to a store, you might like to check out some easy home DIYS for Cat Beds which are Super Cute, Budget-Friendly and just the best that you can get for your fur baby!
13 DIY Cat Bed Ideas for a Comfy Nap Time
Making a Cat Bed at home is not as difficult as you may think. You need to know the Idea, and get the right materials - and TADA! Your own handmade bed is ready. I have compiled 13 ideas that I got to know through my friends and other online pages. Let's get started!
1. Cube for your Kitty!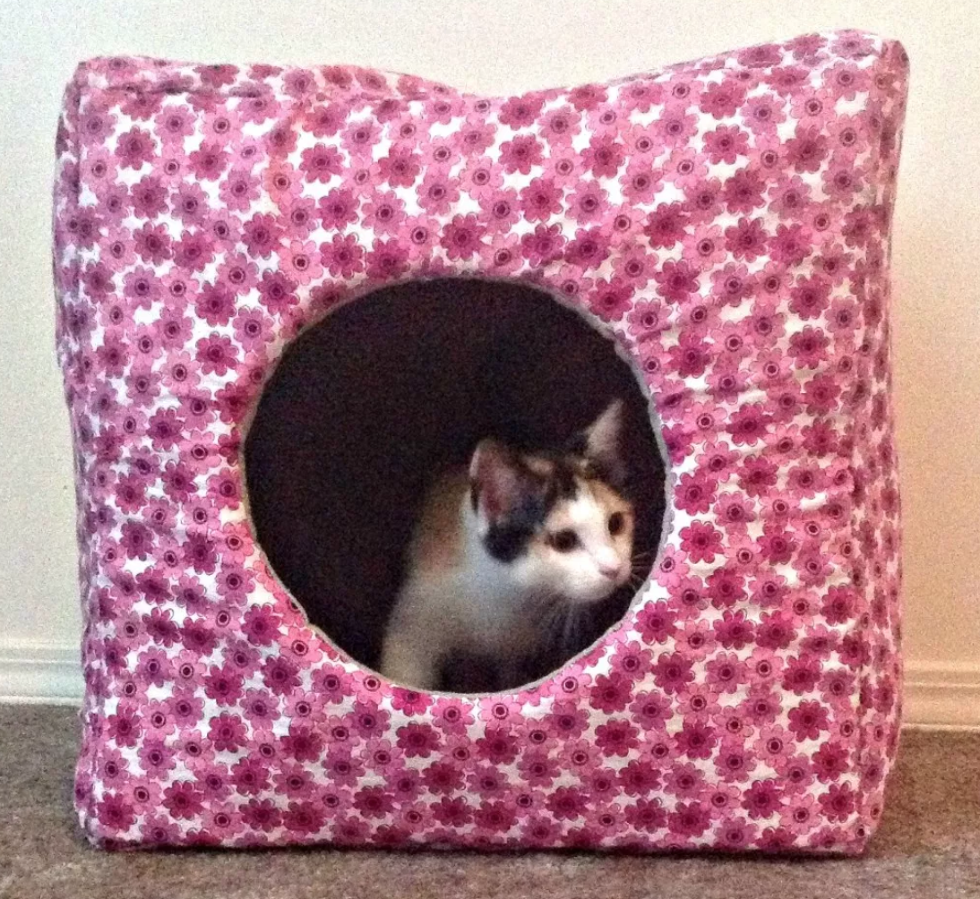 If you are a stitching expert, then you could make a small Cube Mattress for your Cat. Choose the soft foam padding for this bed DIY.
2. A Wall-Mounted Basket for Bedding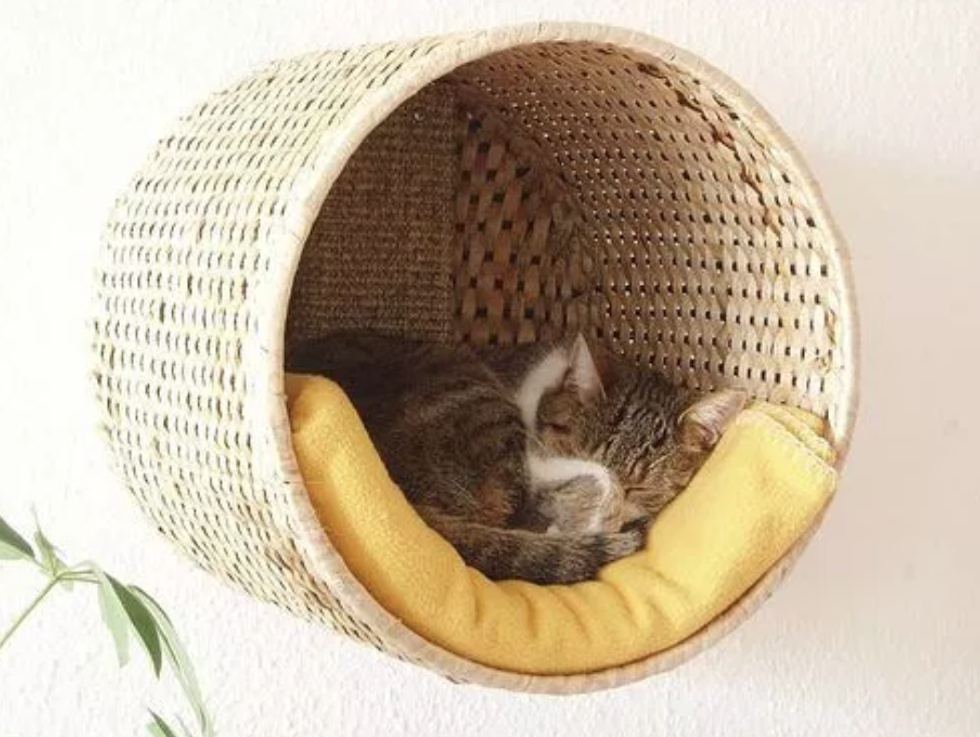 Decide the location where you want to set the basket. Get a durable basket, drill the basket on the wall. Place a soft sleeping bed inside the basket, and it's done!
3. The tire will do the job too.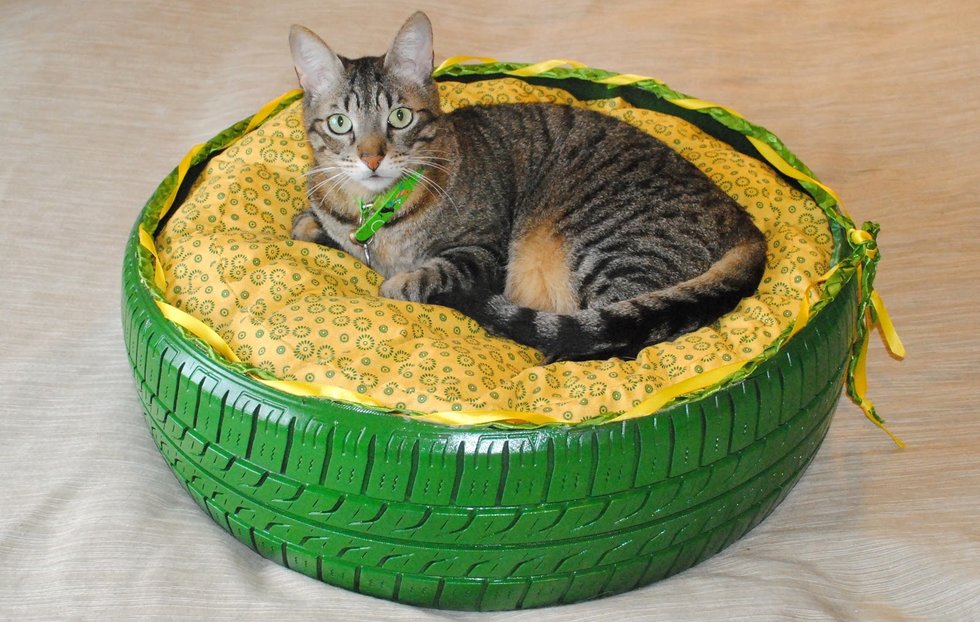 Do you have spare tires which are not in use anymore? Paint the tire with your cat's fav color, and then stuff it with the dog bed. It's done!
4. Special Cat Tent for your friend.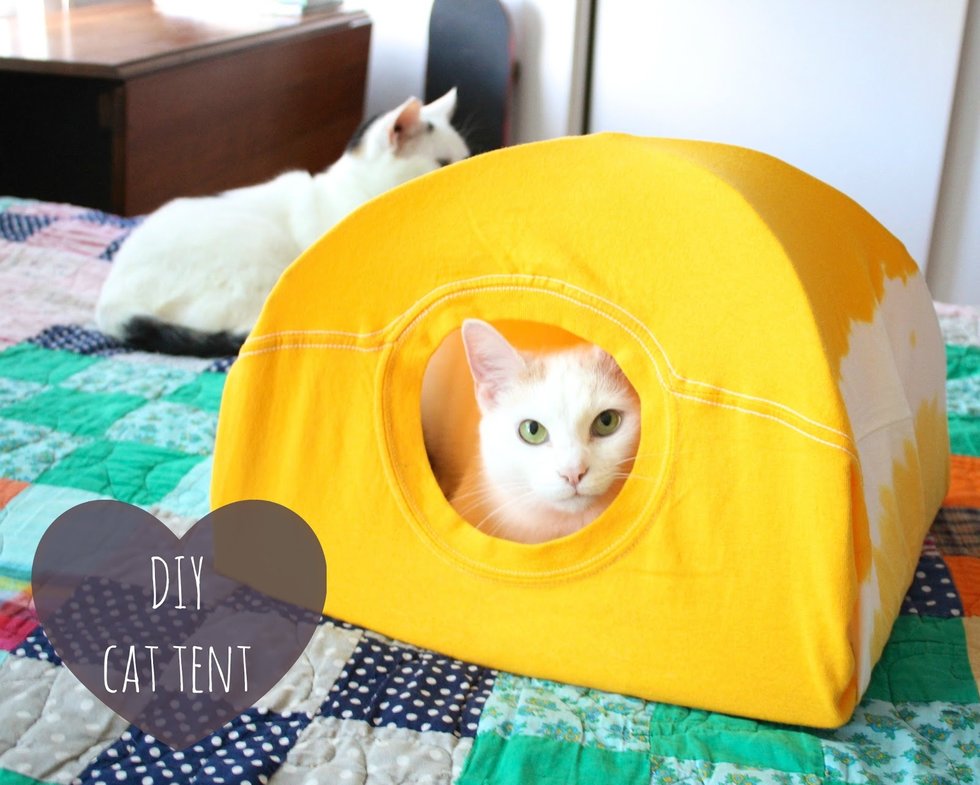 You need hangers, cardboard and a T-shirt of yours. Connect the hangers on the board and give them a tent shape. Dress it up using your round-neck T-shirt. Doesn't it look lovely?
5. Use your Old TV Monitor as the Bed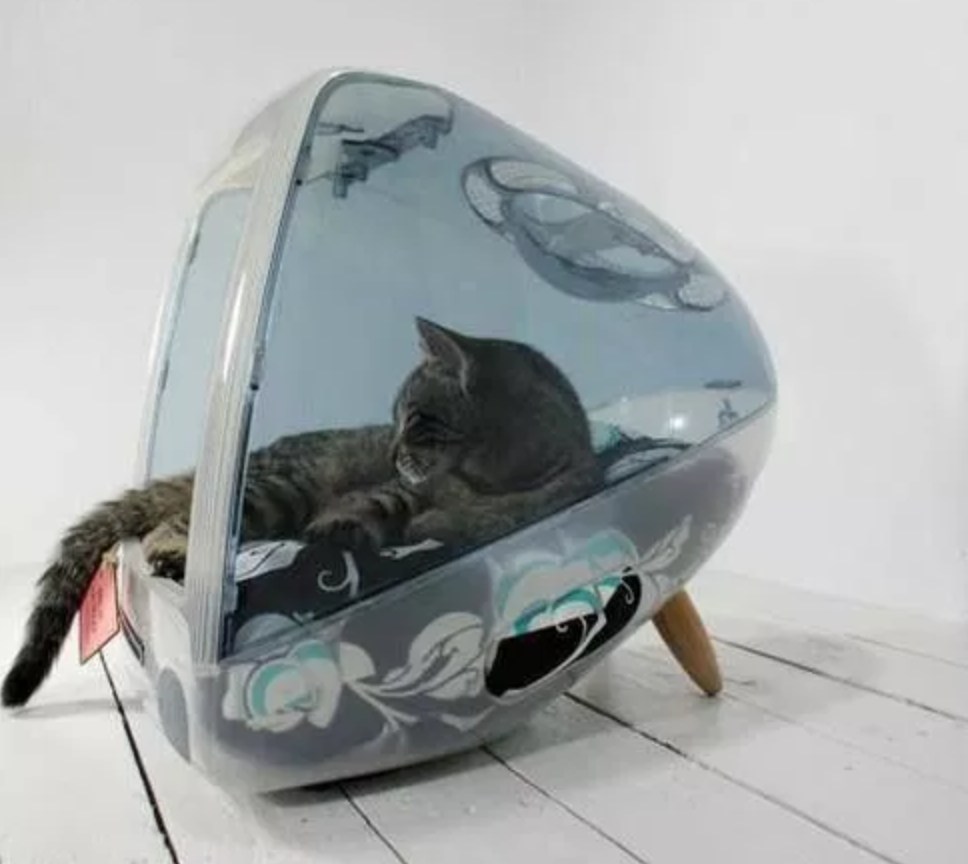 If you have any old desktop set, television monitor lying around unused, then give it a new look by making it as a Cat Bed. You can even use the old monitors too, and add a unique vibe to the decor.
6. Time to Recycle your Sweater!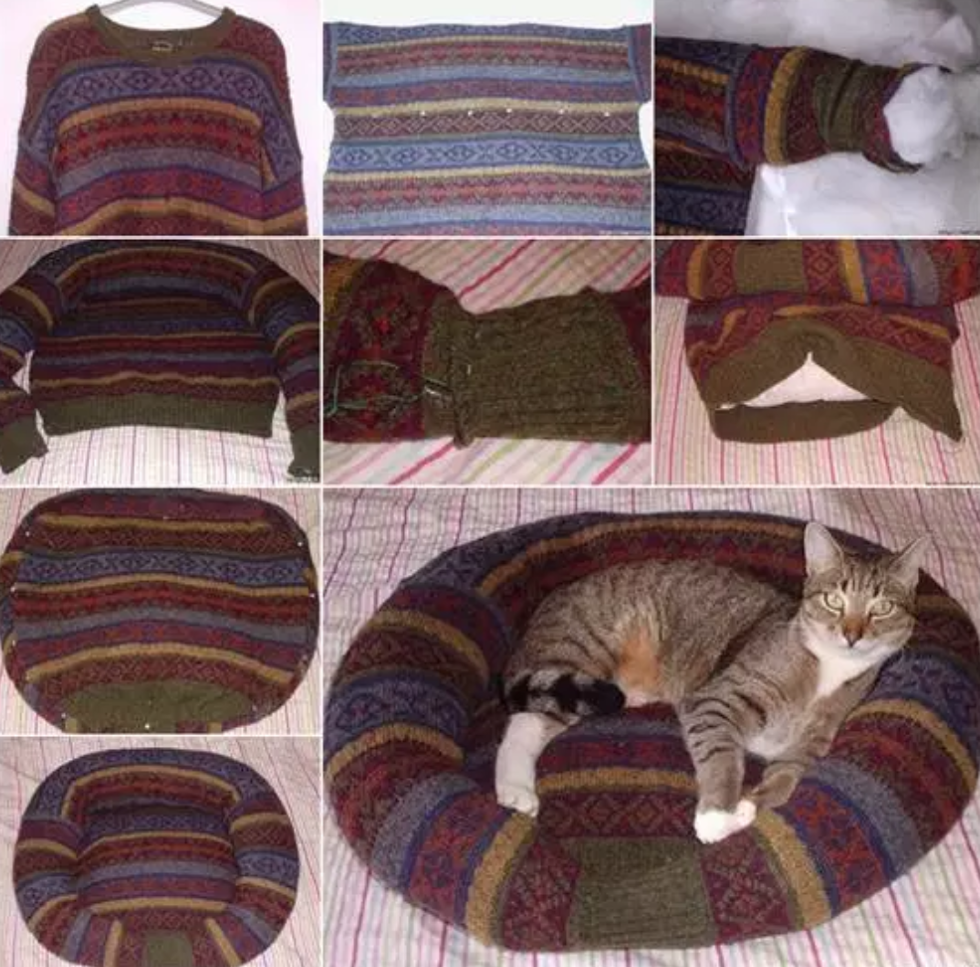 It's a different feeling of giving your cat his own bed, and that too self-made.
Next DIY idea is using your old Sweater made of a thick woolen material. Roll it up, and stitch it. New Warm Cat Bed is ready.
7. Crate turned Bed for Cats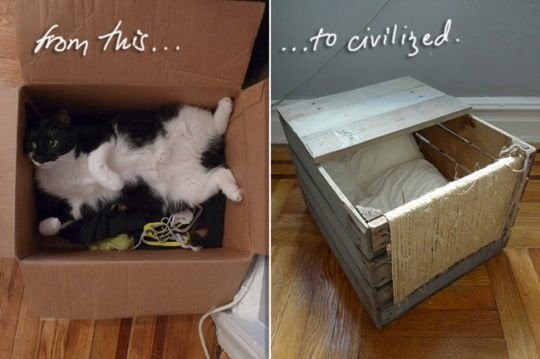 Yes, you can try this out if you have wooden crates at your place. Smoothen the corners, and arrange the bedding inside it. The Crate Bed for Cats is ready!
8. The No-Sew Custom Cat Bed.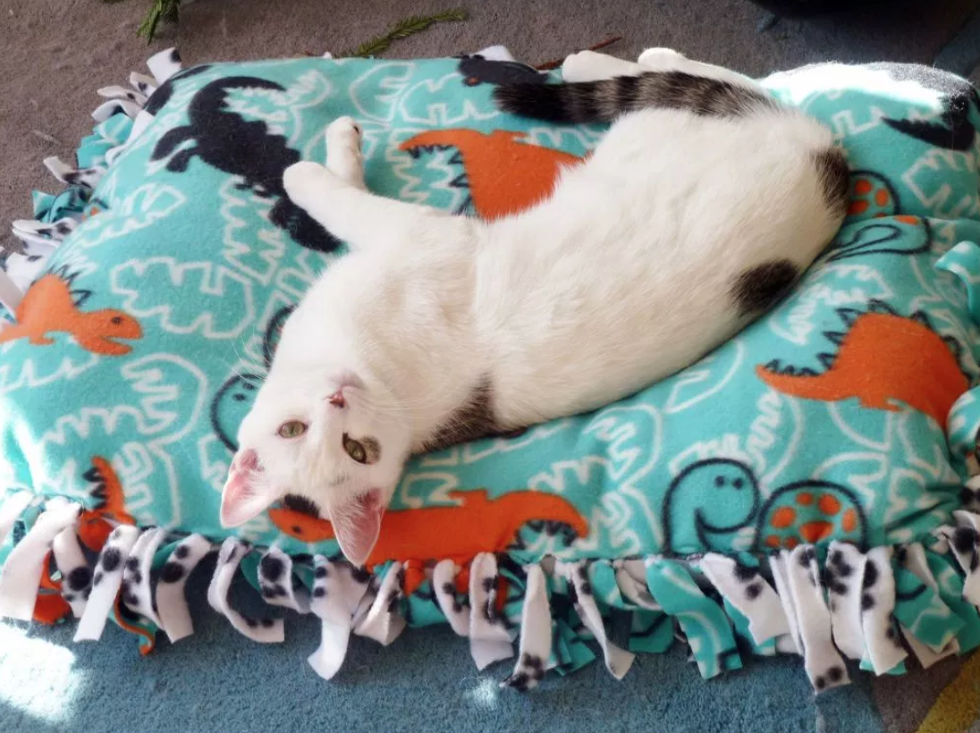 For making this cute bed, you will need just 3 things - yard of some colorful fabric, stuffing material, and scissors. Make the cuts, and then tie them into a knot! Fill it up with the bedding material, and voila it's done!
9. Teepee Styled Cat Bed DIY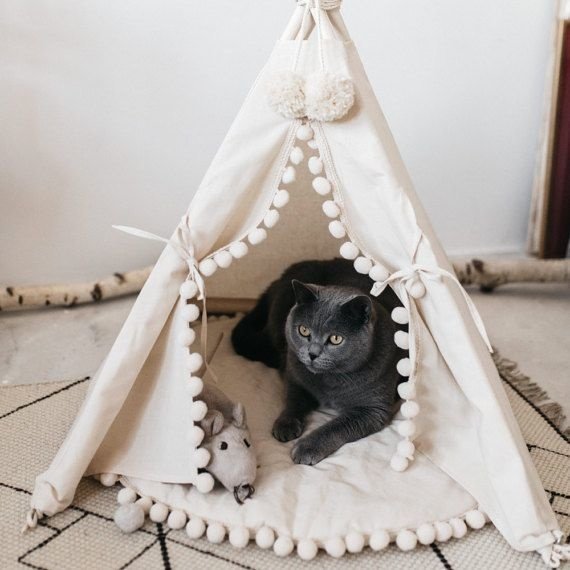 Get some wooden sticks and a piece of fabric. Join the sticks using the Jute or any String, and that makes the top portion. Place the fabric on this structure, place it on the Cat Mattress.
10. Suitcase Bed for your Cats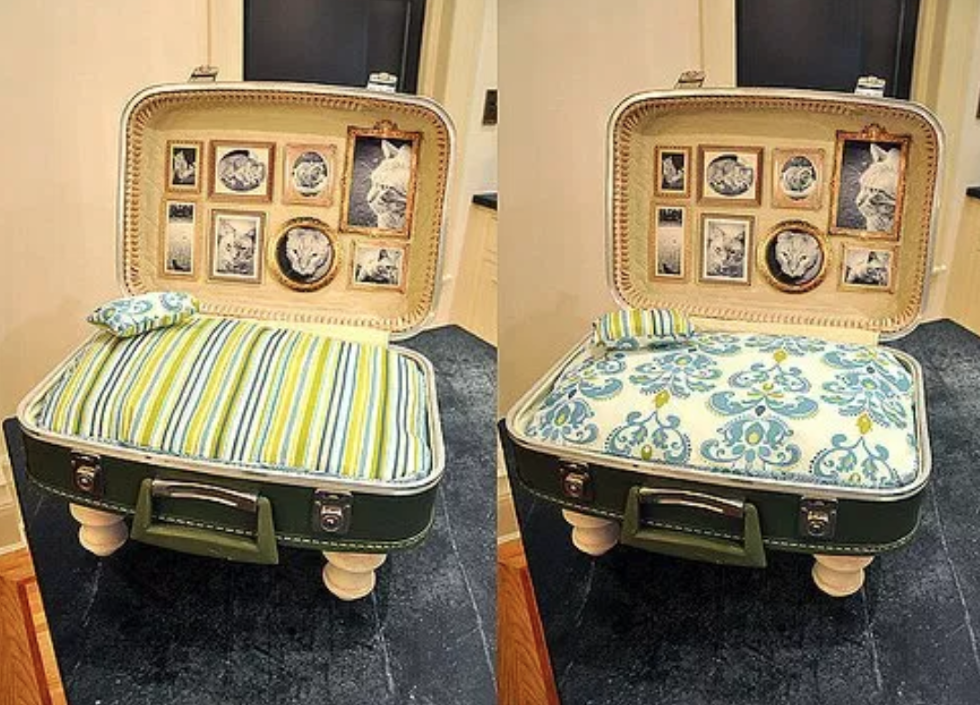 If your kitty is fond of traveling, then you can gift them the best kind of bed. A small compact suitcase will do the job! Decorate it up using photographs and other accessories.
11. Drawers are yet another Bed option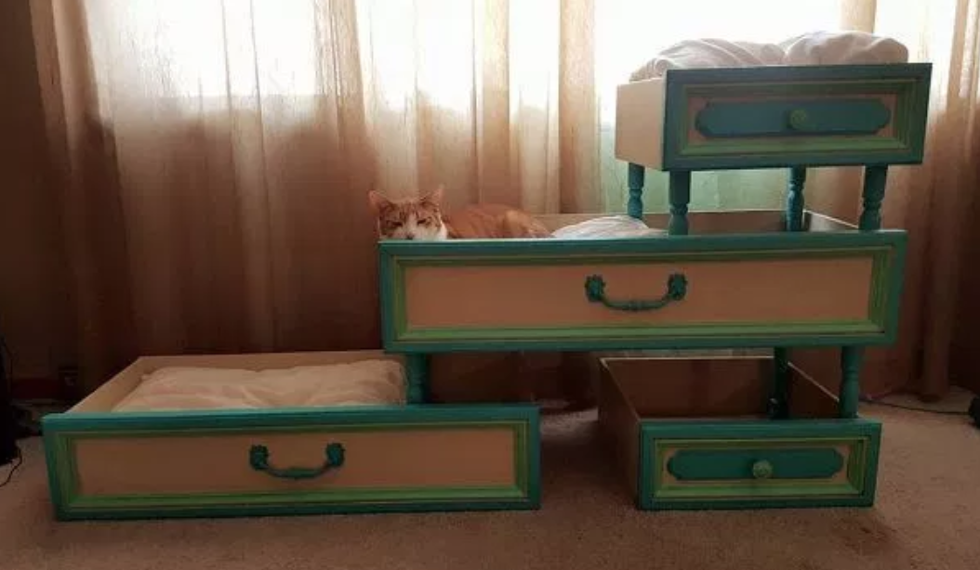 Cats love when you gift them privacy and comfort all together. This is just what a Drawer style Cat Bed will offer to you. Either go with a single-tier or the multi-tier design depending on their needs.
12. Make a Four Post Bed by yourself!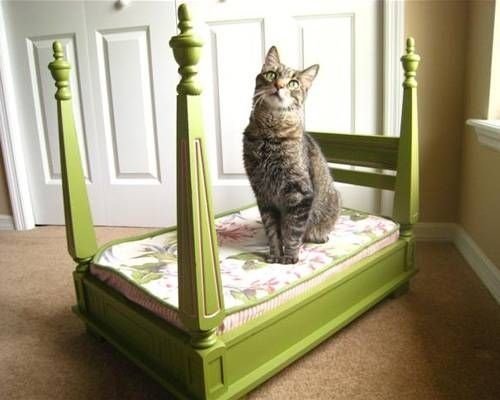 If you want to get a four-poster bed for your kitty, then it may go out of Budget! Because, frankly speaking, it will get expensive. Instead, you can use any old side table or stool you have got and turn it upside-down and use it as a Four-Poster Bed!
13. Cool Carpet Cat Bed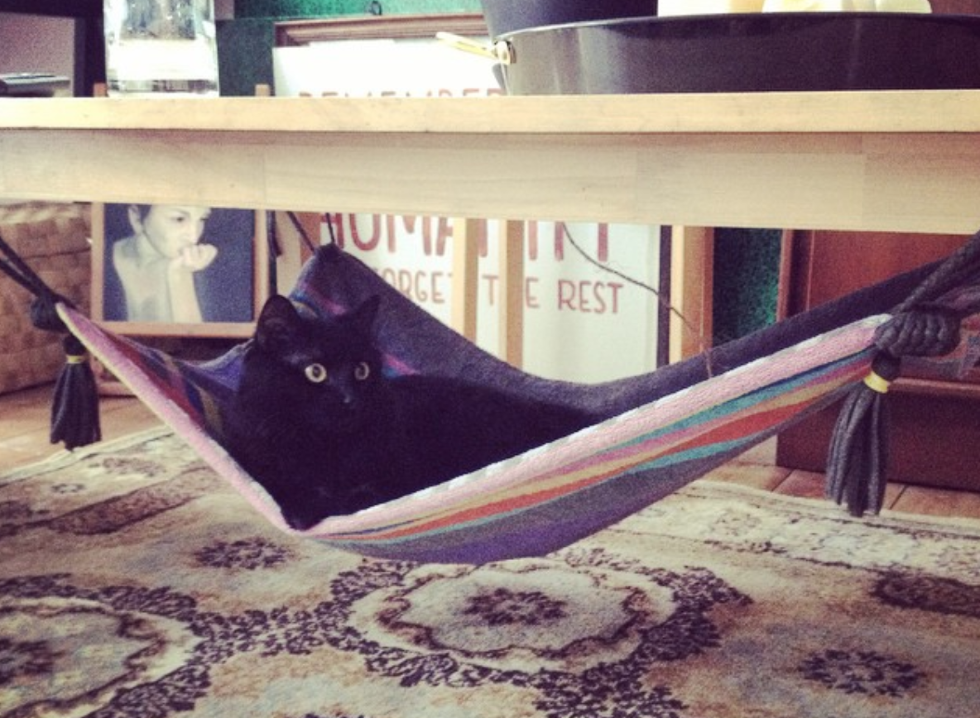 Gift them this cool cat bed that you can make using a soft towel, yarn threads, small table, scissors. Cut out the required size of the towel, as per the table dimensions. Make the knots, and set them below a coffee table. Make sure that there is a good amount of space beneath the table.
So, these were some of my Best Picks for Cat Bed Ideas. Did you like them? Reply to us by commenting your feedback and suggestions. Share us your Cat bedding ideas, if you got anything unique to add to this list.