'Parks and Rec', AKA the best show ever, aired for seven seasons of funny moments and quotes. However, the characters of 'Parks and Rec' actually gave inspiring life lessons throughout the show's run that still inspire viewers even after the show's end.
1. Always remember to treat 'yo self.
2. Always remember that work should come last.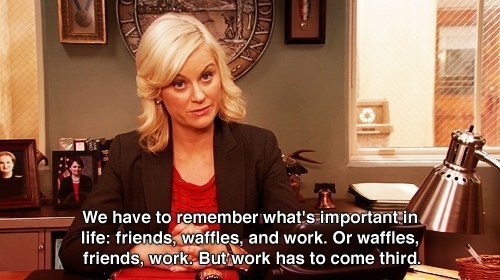 Working is a really important aspect of life; however, work should not become the most important thing in your life and come before your friends, or even waffles.
3. Always remember to build your friends up.
A long-running theme on 'Parks and Rec' is Leslie complimenting her best friend, Ann Perkins. Leslie drops some funny one-liner jokes to Ann throughout their friendship, but this also provides a really important lesson. You should always build up your friends and make them feel loved and cared about.
4. Always remember you will find your Ben Wyatt.

Remember when Leslie made the dating profile because she thought she wouldn't find love and she was matched with Tom? Leslie thought she would never find her true love, but she eventually admitted her feelings for Ben and the two got together. Even though Ben and Leslie had their ups and downs, they are proof you will find your match. Never give up hope that you will find your Ben Wyatt.
5. Always remember breakfast food is the best food.
Whenever you are having a bad day or just feeling down any breakfast food can cure it. Because, why would anyone eat anything besides breakfast food?
6. Always remember to be your biggest fan.
Nobody really knows how hard you work for your goals and dreams than yourself. Take your hard work and be inspired by yourself. There's nothing wrong with being your own cheerleader and you should be able to find inspiration within yourself.
7. Always remember to whole-ass what you are doing.

It's always better to whole-ass one thing than half-ass two things. Work hard and give your all on one thing rather than spread yourself too thin and half-ass more.
8. Always remember to make the most of the situation when life gives you a lemon, you make lemonade.

Okay, so maybe when life gives you lemons you shouldn't necessarly sell your grandma's jewelry and go clubbin'. However, when life comes down on you, you should always make the best of the situtation. Make lemonade or go clubbin' with the lemons life deals you.
9. Always remember that it is okay to not be okay.
The character, Chris Traeger, struggled with depression and anexity during 'Parks and Rec' but worked to keep his mind and body going through it. He went throught therapy and dealt with his all too real issues. Chris is an example of how it is okay to not be okay.

10. Always remember to be passionate.
So, Craig may have cared a little too much sometimes, but his passion and how much he cared was truly inspring. You shouldn't go through life not caring about anything, always remember to have that passion and care.
11. Always remember things will work out.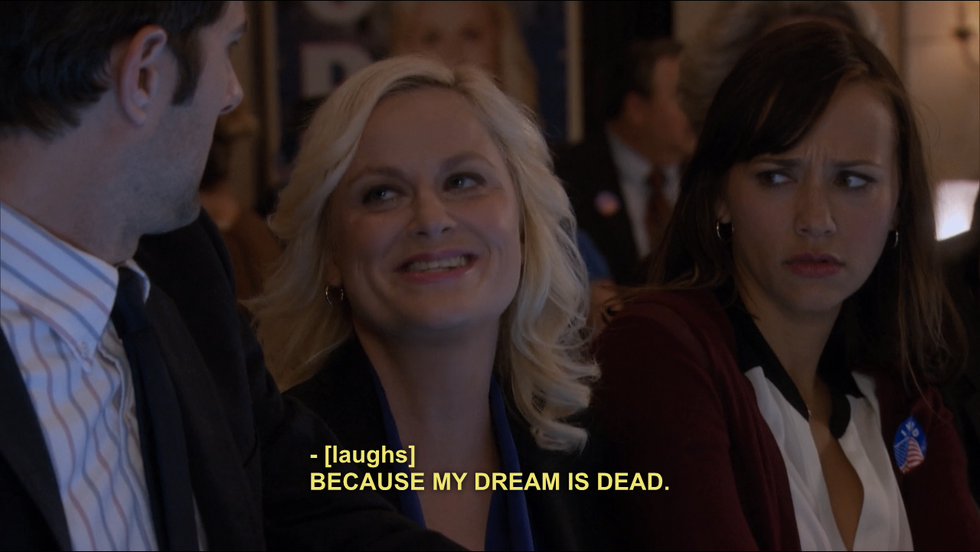 Remember when Leslie thought her dreams were over and dead after she lost the recall vote and lost her city council chair? But, things worked out for her and she went on to get a better job and eventually ran for governor in the final season. Even when it feels like your dreams out working out, things will work out in the end and you need to always remember that.
12. Always remember to be spontaneous.
Remember when April and Andy spontaneously got married at their house party? Leslie thought it was a terrible idea and they would regret doing something so crazy and spur of the moment. However, the two love birds really did love each other and made their marriage work. Sometimes doing something spur of the moment isn't a bad idea.