It's the most wonderful time of the year. Christmas time is the best time of the year, but Christmas in New York is unbeatable. New York and Christmas time are basically synonymous with each other. There's no other place in the world that will get you more into the holiday spirit than good ol' NYC. There is something so special about Christmas in the city. With so many special events and sights, there is no better place to go to get in the holiday spirit than The Big Apple. The crowds, the lights, the smells, there is so much to adore about New York City during the holidays. If you are one of the lucky individuals that gets to experience Christmas in New York City, then there is so much to look forward to. Whether it's your first time in the city around Christmas or part of your everyday routine, it will never fail to amaze you. So, here are some of the best things about Christmas in New York City. What would you add?
1. Rockefeller Plaza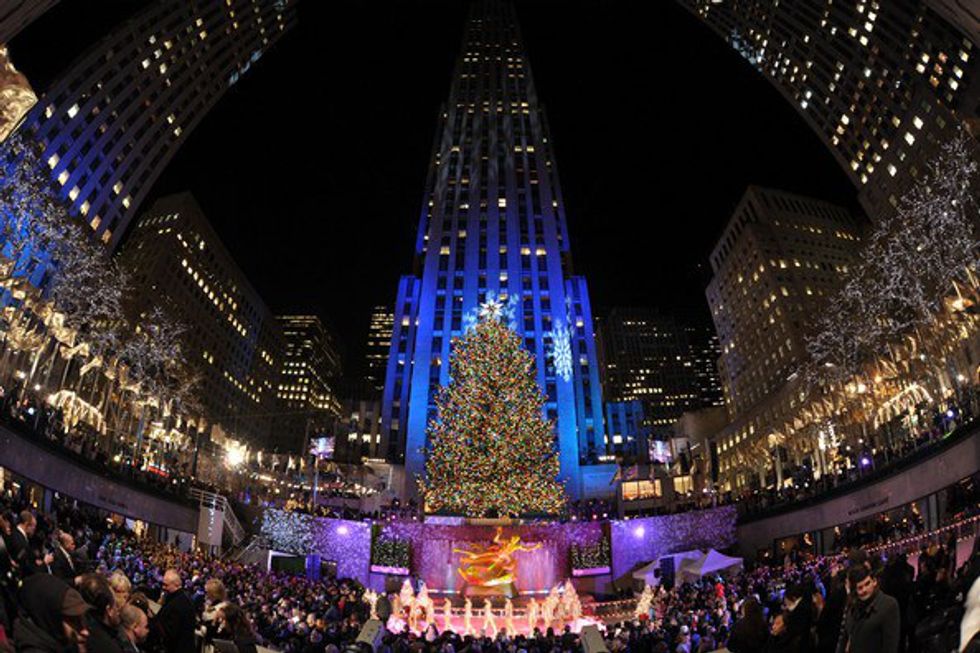 The Christmas tree of all Christmas trees. This 100-foot tree is a worldwide symbol of the holidays in New York City. Thousands of individuals see the tree each day and take their classic picture in front of the beauty all lit up. Each year, a helicopter scouts for the perfect spruce tree to be imported into the city. In the beginning of December, there is an annual tree lighting followed by live performances that are broadcasted worldwide. The tree resides in the heart of New York City and is a must-see for anyone spending a day in the city.
One of the most iconic places in New York City is also the most festive. Every year, The Rock features a giant Norway Spruce illuminated with 45,000 lights. The special Christmas tree lighting takes place in early December with performances from many famous musicians. Although it can be very crowded and stressful, the sight of the famous Rockefeller Christmas tree and skating rink will definitely boost your holiday spirit. Millions of people travel across the globe to see the Rockefeller tree light up for the season.
2. Central Park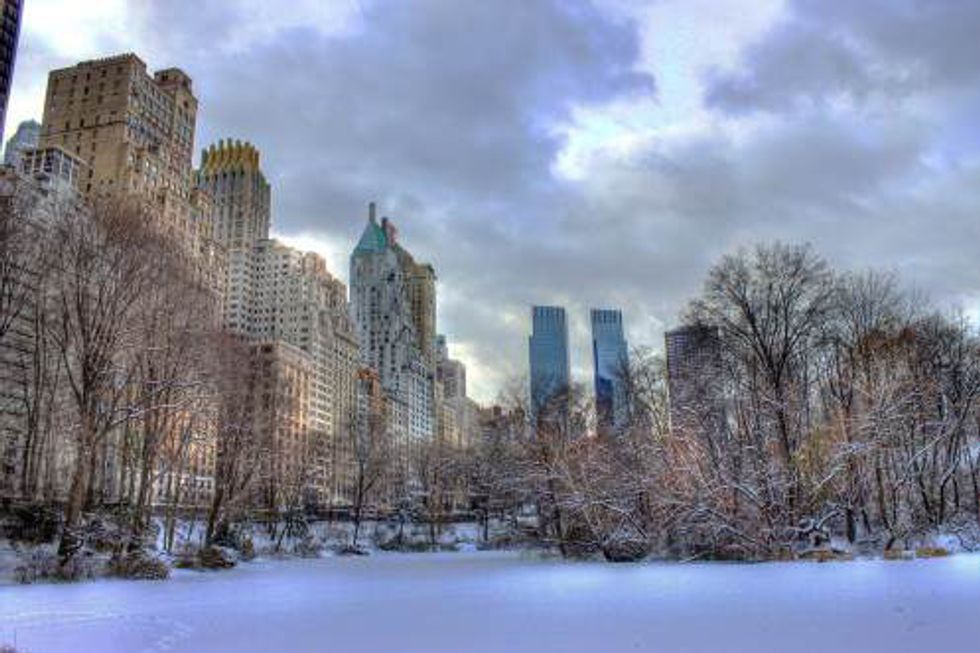 Central Park is one of the staple locations in New York City. Central Park is beautiful during the summer, but when it's covered in a blanket of pristine white snow, it will hands-down take your breath away. There is so much to do and see in the park, so why not experience it all on an unforgettable carriage ride? This is a unique and unforgettable experience to see all that New York has to offer. You can have a private two person carriage ride or a fun family and friends ride. In the winter, blankets and enclosure are provided to really make it a warm, enjoyable experience. Along the ride, the coachman will point out the most historical landmarks and movie locations. Each carriage ride is a unique experience that you won't want to miss. Also, if the wait to skate at Rockefeller Center is too long, check out the Wollman Rink located in Central Park.
3. The Radio City Christmas Spectacular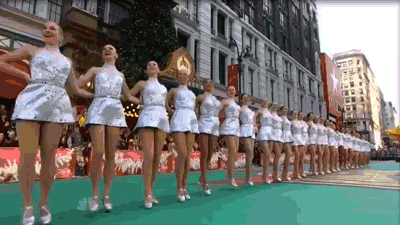 A classic and crucial part of holiday spirit in the city. The Radio City Christmas Spectacular has been performing since 1933 and the famous Rockettes have become a staple during the holiday season. At the height of their season during Christmas time you'll find them doing five performances a day. They kick off their premiere during the Macy's Thanksgiving Day Parade with a killer routine. They also do a small performance at the well known, Rockefeller Christmas Tree Lighting Ceremony. Performances take place five days a week at Radio City Music Hall from November 13th to January 3rd.
4. Saks Fifth Avenue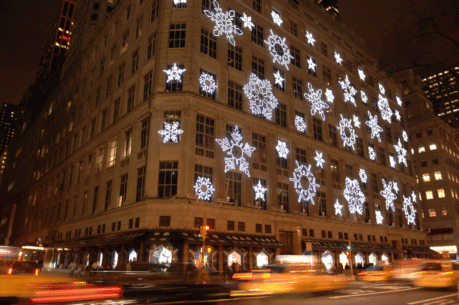 A nice, 2-mile stroll down Fifth Avenue will give you a display of a lifetime. Whether it's broad daylight or at night, Saks Fifth Avenue will always catch your eye. All the most well-known department stores turn their storefront windows into a magical winter wonderland. Some of the most popular department stores include Macy's, Lord & Taylor, Bloomingdale's, Barney's, Saks Fifth Avenue, and Bergdorf Goodman. The bright lights and magnificent displays will leave you in awe. Between the extravagant window displays and the beautiful light show at night, this is definitely a place you want to take a quick (or long) walk by.
5. Bryant Park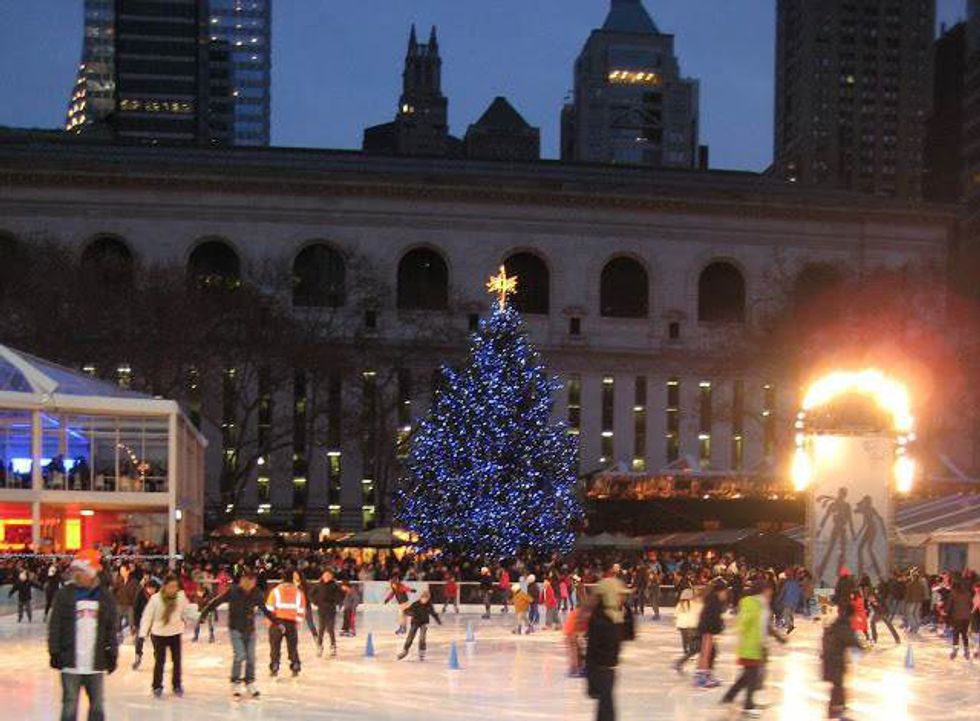 Bryant Park is definitely one of the most beautiful places to go to around Christmas. There are holiday shops, which consist of about 125 boutique-style shops, along with the ice rink. Keep in mind that this ice rink generally has shorter lines than Rockefeller too!
6. Giant Ornaments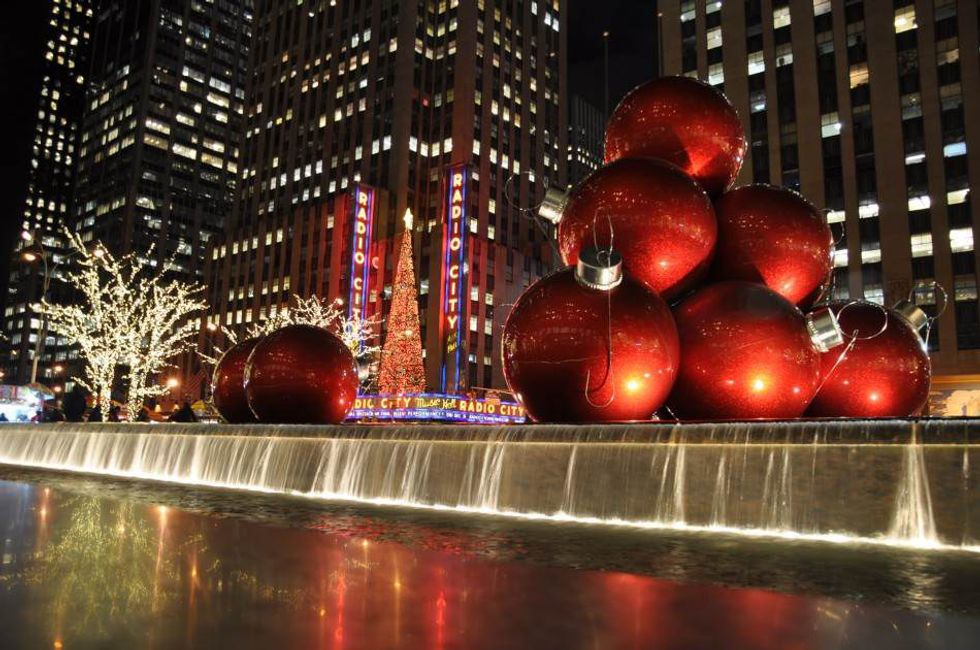 The perfect place to stop and take a picture is in front of the big ornaments, most famously located right across the street from Radio City Music Hall, where you can take a break from the insane crowds.
7. The Food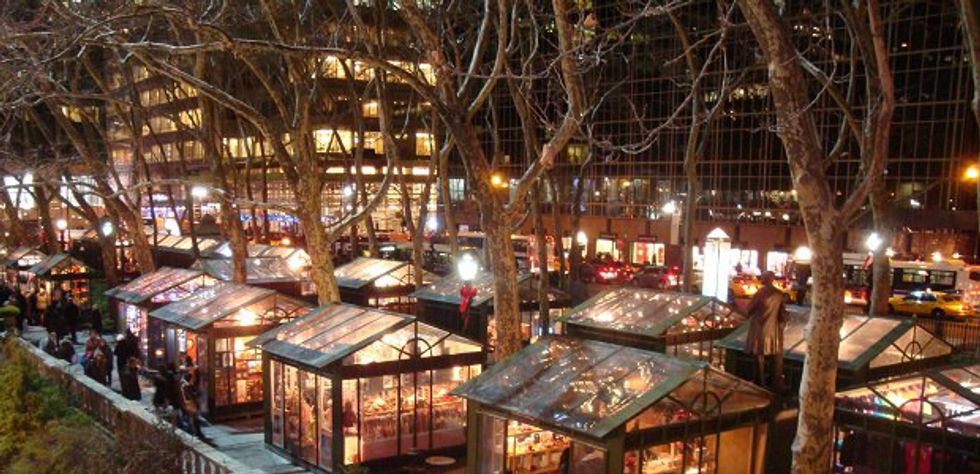 Everything in New York City just tastes better around Christmas. Whether it's an upscale dinner at a five-star restaurant or a burger from a local pub, there's definitely extra love in all of the food around the holidays.
8. Pop-up Shops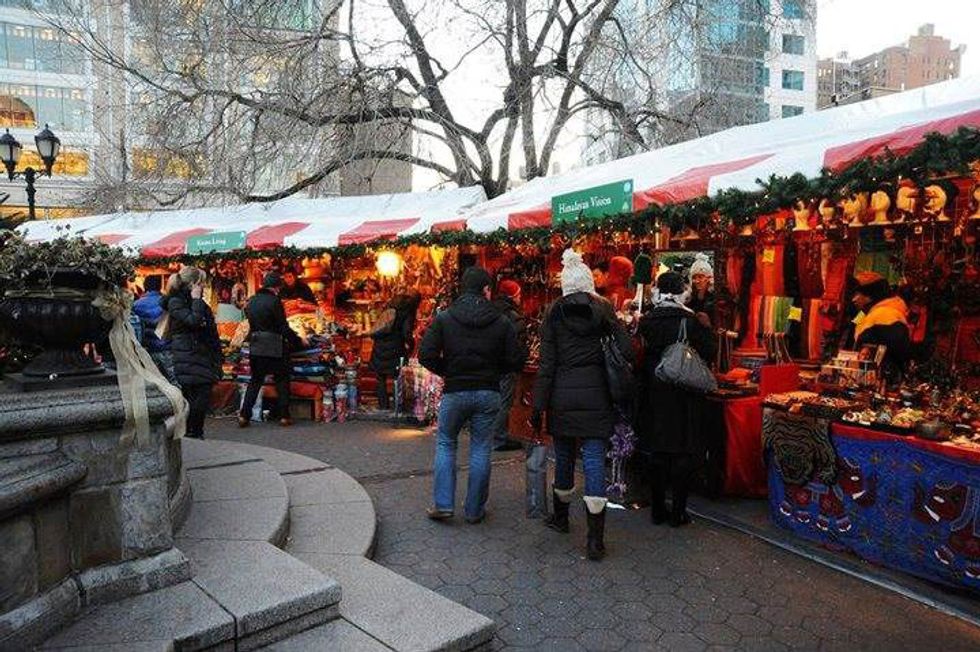 These three destinations: Grand Central Station, Columbus Circle, and Bryant Park, as well as other locations in New York City, have themed pop-up shops during the holiday season. The Holiday Shops at Bryant Park's Winter Village include over 125 boutiques. At these festive markets, you're sure to find a gift for everyone on your list. Inside the park's kiosks, you can find jewelry, apparel, local foods, decorative goods, and other knick-knacks. Of course, many of the kiosks are holiday-themed as well.
9. SantaCon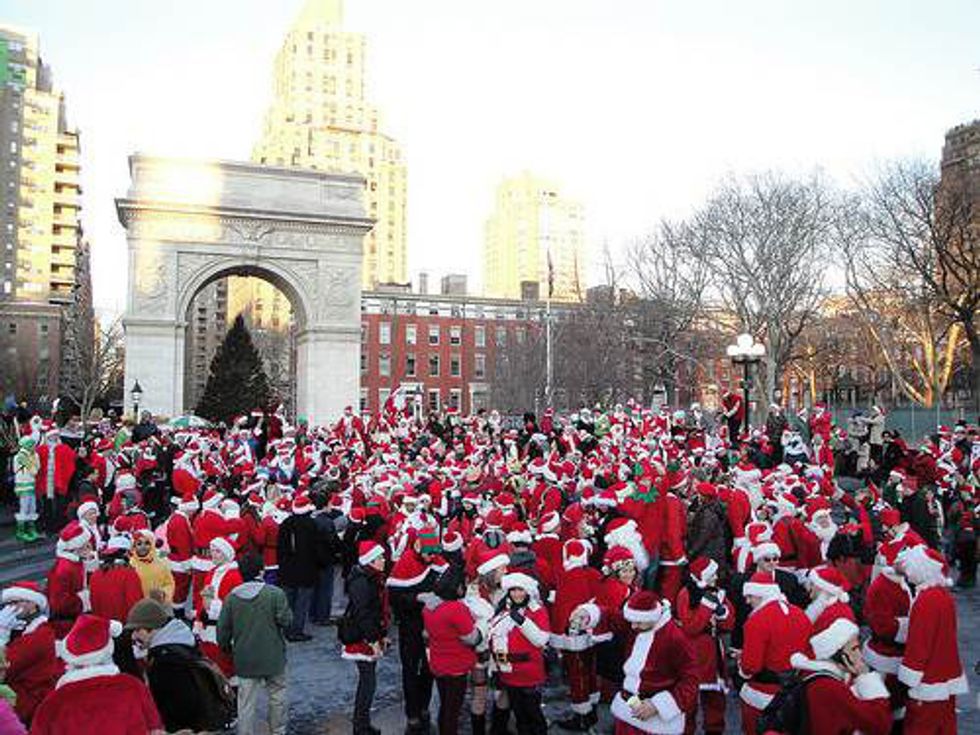 Every year, thousands of people dress up and attend NYC's SantaCon. SantaCon is held worldwide in multiple locations, including London, Berlin, Montreal, and Okinawa. There are some guidelines for SantaCon: you must dress up, a Santa hat isn't enough! And you must address others as "Santa!"
10. New Year's Eve In Times Square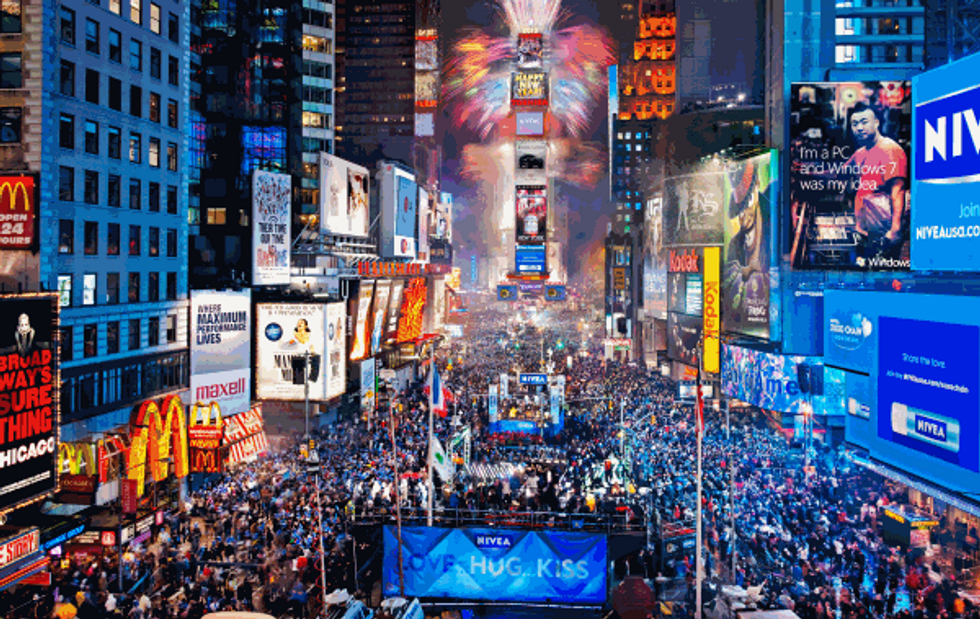 What better way to ring in the New Year than by watching the spectacular ball drop in the heart of Times Square?! Before midnight strikes you'll get to enjoy a plethora of live performances from the hottest bands. If standing outside in the freezing cold isn't your thing, then you can enjoy a personal VIP night at the hottest nightclub with all of your best friends.
11. Everything Looks Like Christmas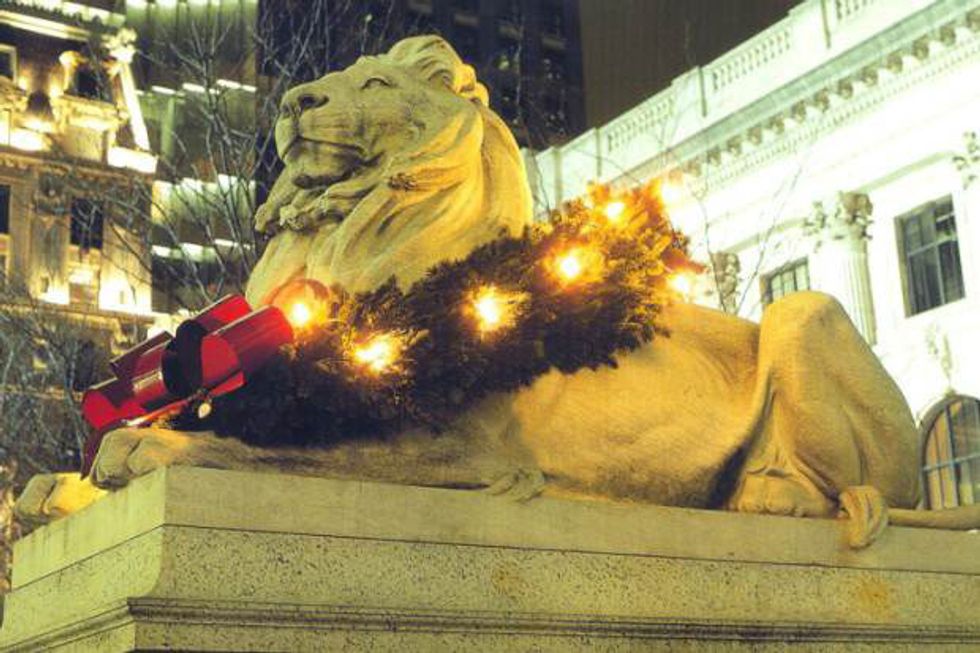 Every single thing in NYC gets a Christmas touch and it's truly beautiful. The Empire State Building lights up in green and red, the ever-so-stoic New York Public Library Lion gets its wreath, oversized ornaments fill Sixth Avenue, the trumpet angels take their stance at Rockefeller Center, and countless street vendors sell Santa hats.