Sometimes you want nothing more than to have one day where everything goes perfectly according to plan and you are happy all day long. Isn't that everyone's dream? This just doesn't happen as often as we would like it to, but in my opinion, the next best thing is being the person to make someone else's day. Sometimes we don't know what to do to in order to brighten someone's day, but oftentimes, it's the little things that make the biggest difference. Here are some ideas for doing just that.
1. SMILE!

This almost seems like a weird suggestion, but in today's society, the norm is to avoid eye contact with a person while walking by them by pulling your phone out and looking down at it for no reason. Guys, let me give you some advice: if you are walking by a girl, whether she is cute or not, do not have your phone out! Just smile at her (not in a creepy way), and I guarantee you will have just made her entire day. Acknowledging someone by just doing something as simple as smiling will make all the difference.
2. Compliment someone

If you like something someone is wearing, be that weird person to tell them that you like it! I guarantee they will be happy about it the rest of the day.
3. Gift someone their favorite thing

I wanted to make sure my roommates' first day of school was fun and happy, so before everyone went to class, I got up, got their favorite drink from Starbucks, and had it waiting for them when they got up to start their day off right.
4. Help someone out

Ask someone if they need help! If a friend of yours is struggling with a homework assignment or studying for a test, offer to tutor them or just help them understand the material. I always love when I have to carry something heavy and someone offers to help me carry it. It always makes my day when someone makes my load a little lighter.
5. Play with dogs! (Or really any animal)

Animals will always make you smile.
6. Have a dance party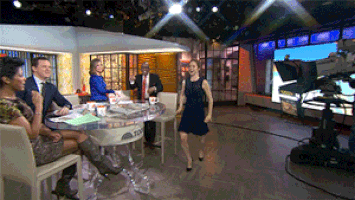 Dancing is an awesome way to let yourself loose and release some stress.
7. Offer to spend time with them

Spending quality time with someone is always a good way to make someone's day. Even though this one is a little more time-consuming, it often means the world to someone for you to just sit down and chat.
8. Cuddle

Don't get me wrong, I'm not much of a cuddler myself, but for most people in this world, cuddling gives people a sense of closeness and helps them to stay calm. Even a hug in passing accomplishes the task.
9. Visit them at work

Some of my favorite moments in my day are when people visit me at work. You don't have to do anything big, like bring them flowers or a drink or something, but just stopping by to say hi and support them at their job can really brighten their day.
10. Tell them that you appreciate them

Like they say, actions often speak louder than words; however, sometimes words will do justice. Letting someone know that you love them and appreciate them is a nice way to remind someone that they do make a difference in your life.
Contrary to popular belief, life isn't like the movies where you have to make this big grand gesture to make someone's day. Sometimes the little things really make the biggest difference.