Foodies, rejoice! Koreatown is the ultimate spot for all your late night cravings, KBBQ fixings, traditional street food, dessert cafes, boba spots, and franchised Korean bakeries.
If you're a lucky gal like me (who lives in the smack dab middle of it all), you never have a hard time figuring out what to eat for dinner or where to go to hang out with friends. With an endless array of restaurant options, delivery services, and Yelp elite recommendations, finding a new go-to place has never been easier.
As a major Korean food connoisseur, here are 10 of my hits and misses of all the classic "hot spots" that everyone around town is talking about.
Hits—The 5 best spots that live up to the hype and are well worth the money!
1. Paris Baguette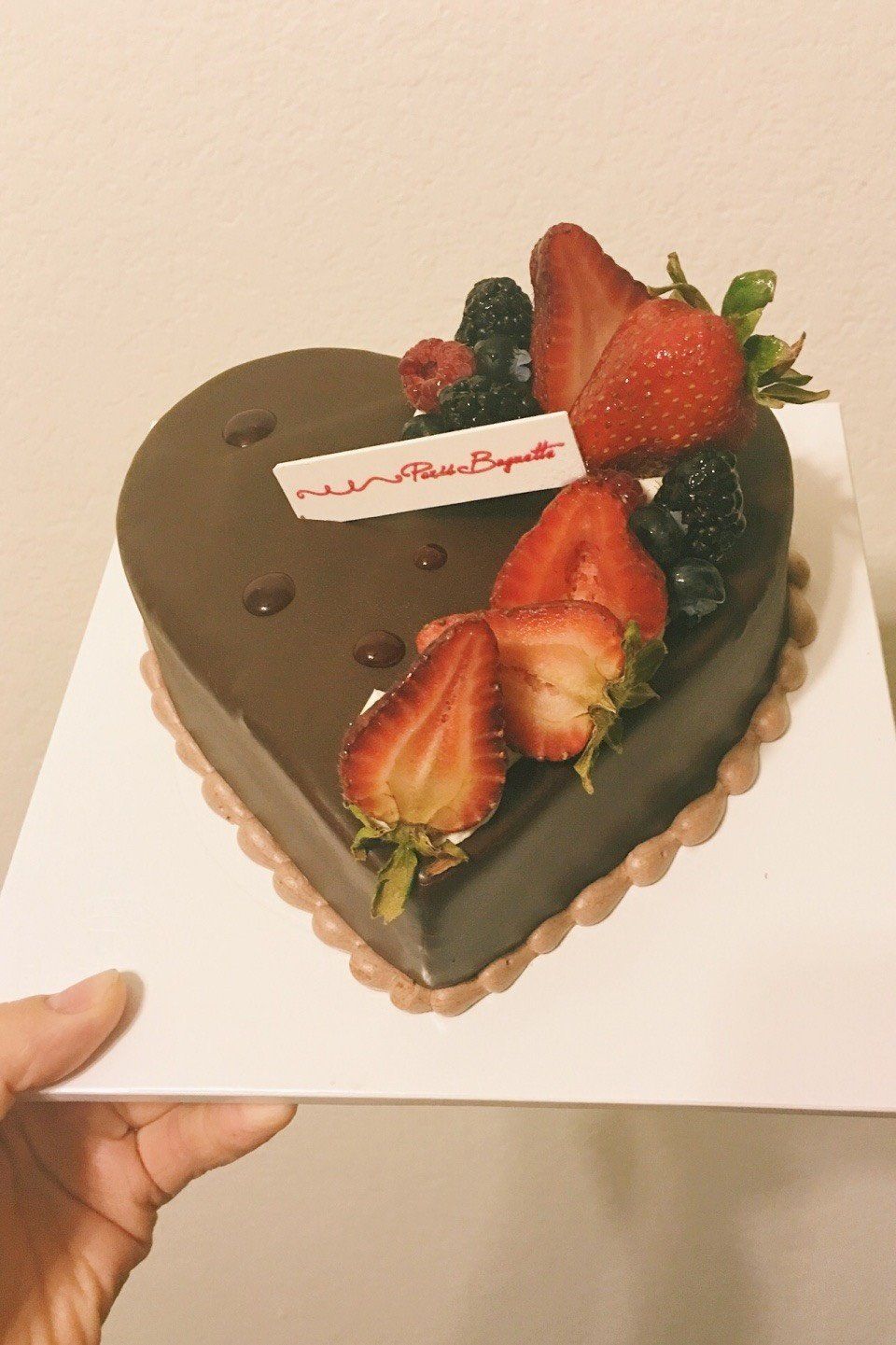 Elle Hong
Paris Baguette is a super hip and modern franchised Korean bakery (or Boulangerie) with locations in Los Angeles, New York, Seoul, Singapore, Tokyo, Shanghai among many others. Best known for incorporating traditional French baking skills and practices, this is THE place to go to for aesthetically pleasing cakes (for any occasion) or a quick bite—they serve so many sweet and savory pastries!
Elle's Recommendation: During Christmas, you can score a free mug or blanket when you buy a holiday cake. If you buy a cake for someone's birthday, candles are included at no additional charge so you never have to run back to the store for them.
2. Sul & Beans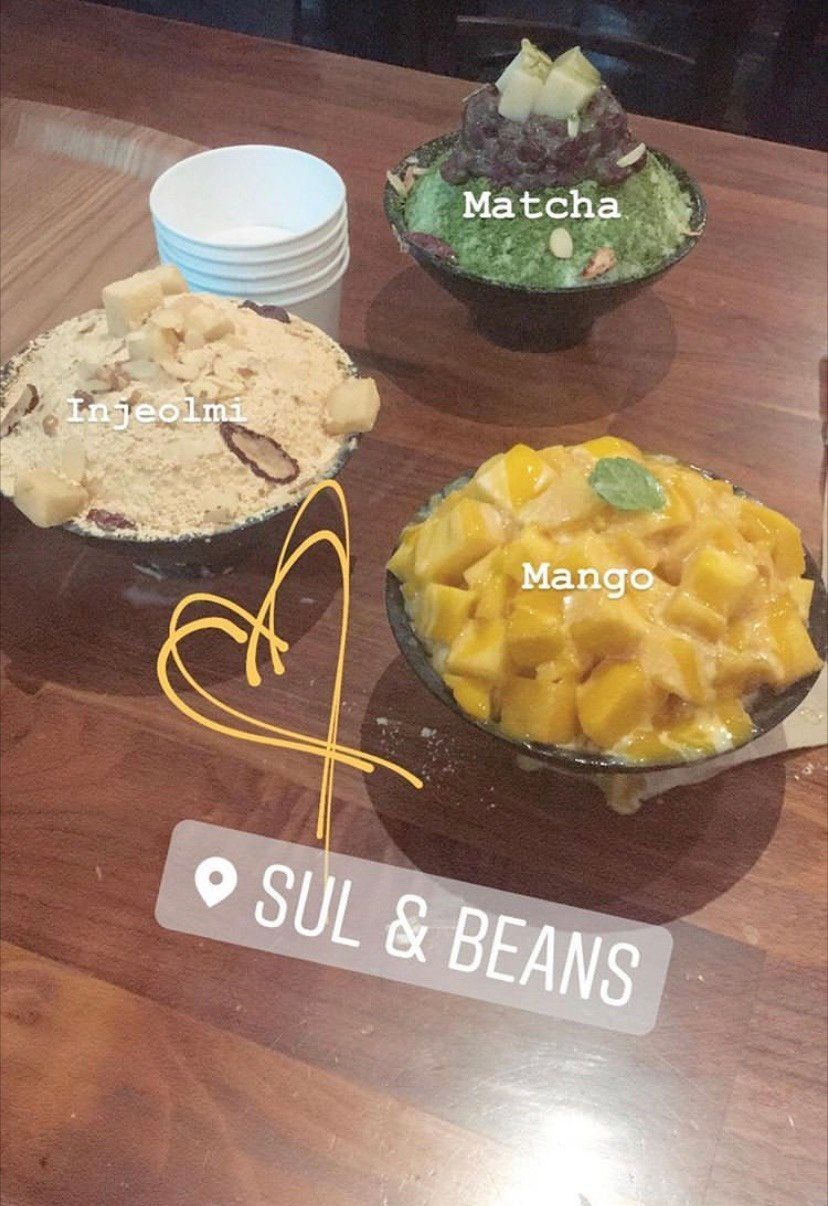 Elle Hong
Another boujee Korean dessert cafe which is known for its classic "Bingsoo" dessert. If you've never tried this shaved ice goodness before, you're seriously missing out. The main bonus is that the red bean paste is made IN HOUSE fresh every single day—most bingsoo places use an artificial canned version so for the price you're paying, it is a deal.
Elle's Recommendation: Two words— Injeolmi Toast. Injeolmi is a type of sweet rice cake which is sandwiched between two slices of buttery toast bread before being drizzled with this mouth-watering, foodgasm inducing condensed milk syrup. Get the Injeolmi Combo to score an Injeolmi Bingsoo AND an Injeolmi Toast for a discounted price.
3. Shabuya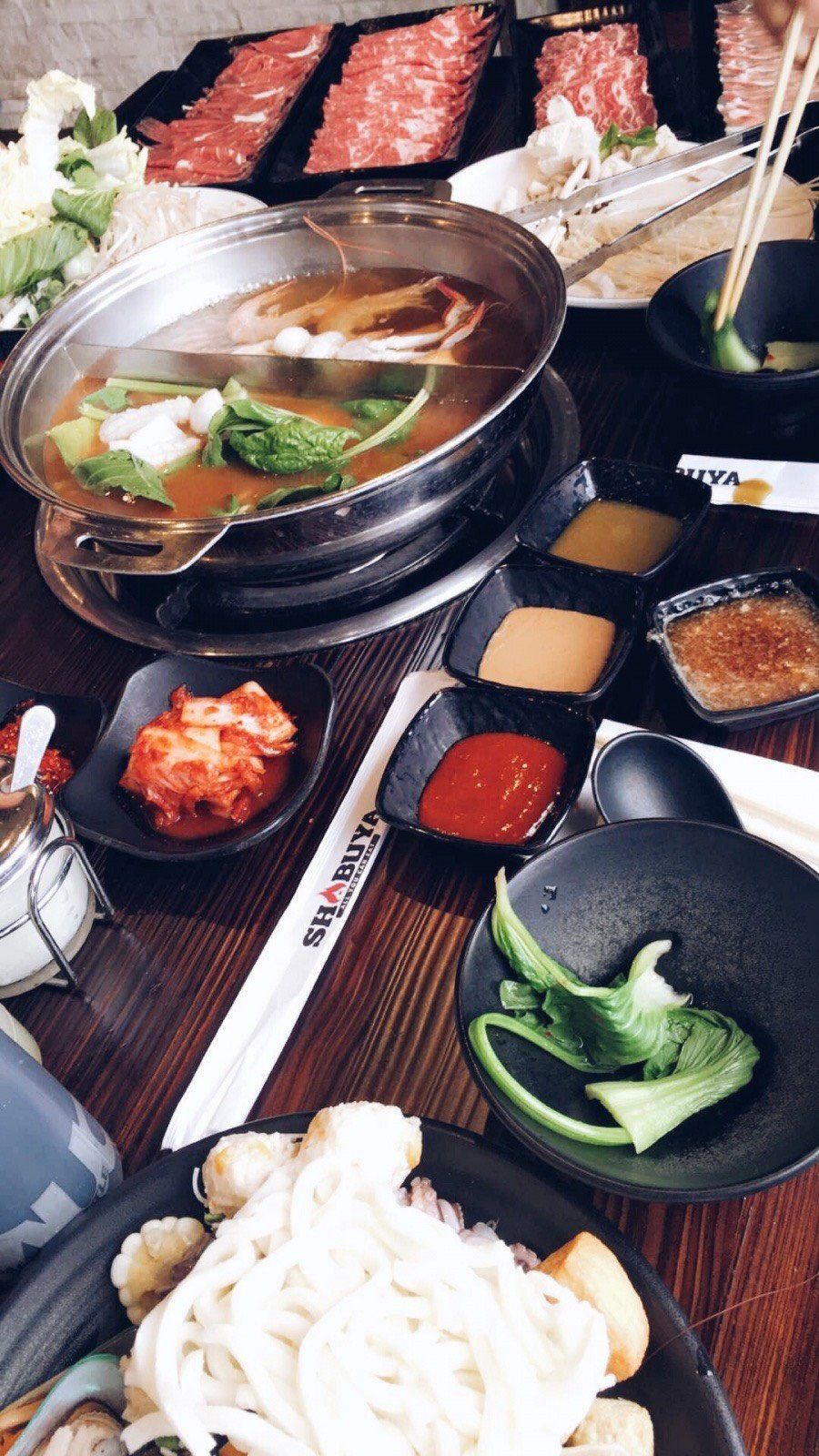 Elle Hong
Honestly, any AYCE joint will make me a very happy girl but when you throw in a hot pot with an included banchan (side dishes) buffet AND fried rice at the end, this girl just went to AYCE heaven. This place recently closed their location on Wilshire but by popular demand opened up again on Olympic Blvd!! For $25.99 a person, you can eat your heart out with absolutely no regrets later on.
Elle's recommendation: Stuff yourself with the meat options for the first two/three rounds BEFORE you tackle the banchan buffet. Also, remember to skimp on the rice and avoid the fish cakes (glutenous MSG bombs designed to fill you up quicker)
4. Buchun Gamjatang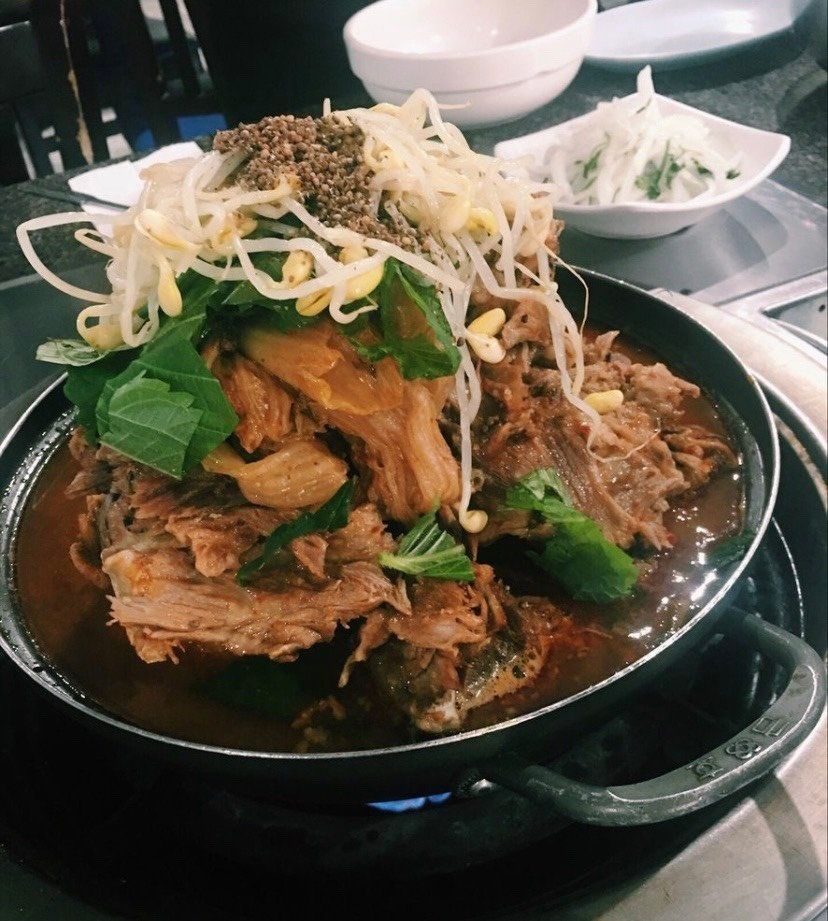 Elle Hong
Gamjatang is a traditional Korean dish which roughly translates to Potato Stew. As boring as it sounds, this type of stew is more than just potatoes—it's piled high with amazing meaty goodness. Now, this is any carnivore's dream. Did I mention this place also makes you free fried rice when you hit the bottom of the hot pot at the end of your meal? Why yes, they do.
Elle's recommendation: This place is KNOWN in Koreatown for being the only Gamjatang place that gives out a FREE Bossam (Thinly Sliced Pork Belly) platter but only if you pay cash. As unconventional as it sounds, it is well worth it. So bring some cash and get ready to MAKE IT RAIN B*TCHES.
5. Ubatuba Acai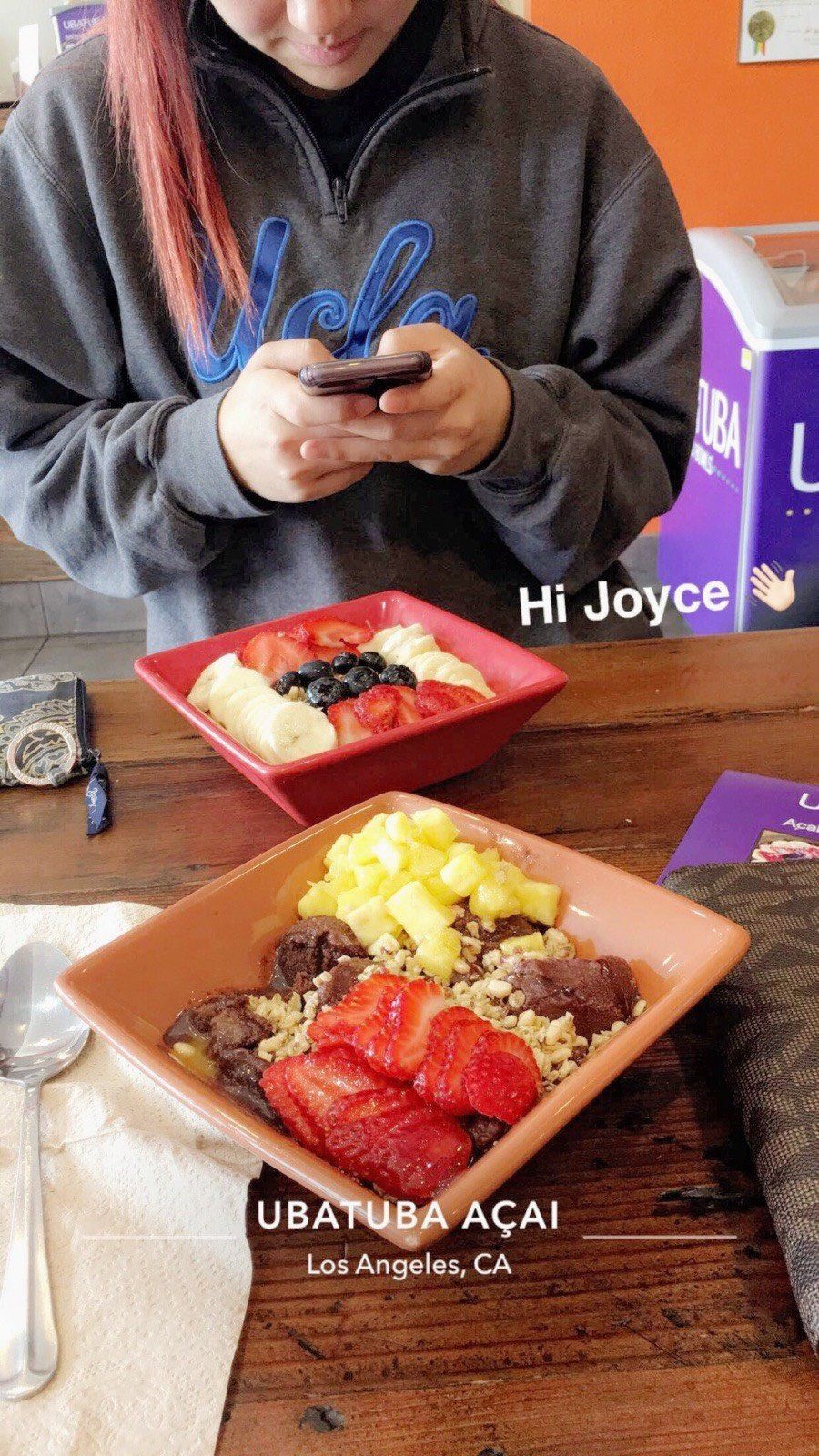 Elle Hong
Having lived in the valley a few years before moving to K-Town, I really struggled to find an Acai Bowl place within a mile radius to satisfy my cravings. Enter Ubatuba Acai. This spot really gets into this Brazilian staple, using fresh fruit and raw honey with these custom made granola clusters which are to DIE FOR. They also sell empanadas which seem like an odd match up but they surprisingly go well with each other.
Elle's recommendation: My favorite bowl is a Medium #2 called the "Puruba" which is served with REAL PASSIONFRUIT PULP (this is not a drill). For on-the-go, they also serve an Acai Smoothie which you can blend with milk or orange juice so you don't need to be shoving that purple sweet goodness into your mouth while driving home.
Miss — Unfortunately, these are 5 of my picks on places who really missed the mark and honestly are an overrated mess.
1. SomiSomi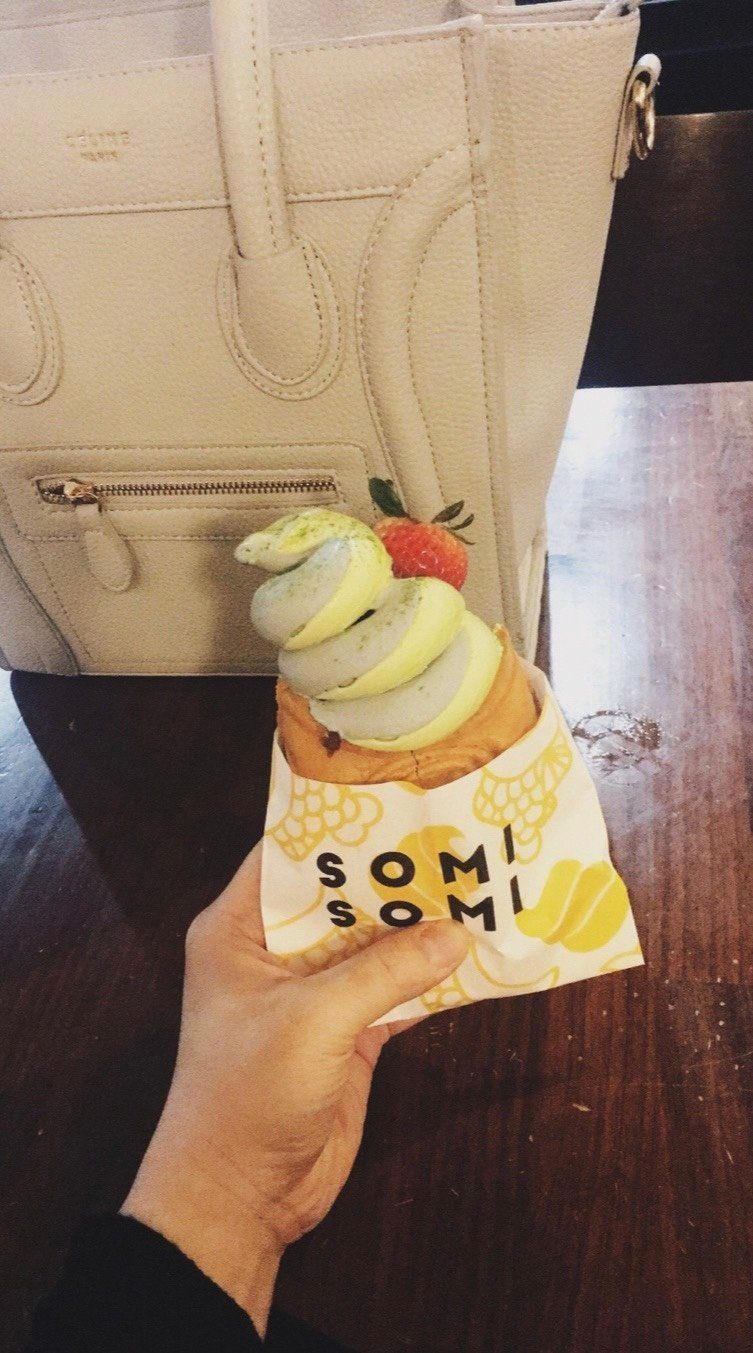 Elle Hong
This soft serve dessert was hitting K-Town BY STORM when they first opened their shop inside Madang Plaza. Everywhere I scrolled on Instagram, I would see this colorful Taiyaki fish/ice cream swirl/colorful topping trio.
Sooo to up my social media game, I sadly waited 40 minutes in line (which had extended out into the freaking escalators of the plaza) to get an embarrassing mispronounced name call (they were looking for Eli..a boy?) and a sad lopsided swirl with an underripe strawberry garnish. As for taste? I mean, it's just ice cream with a sprinkle of captain crunch cereal toppings and matcha powder. Thank you, next.
2. Myungrang Hot Dog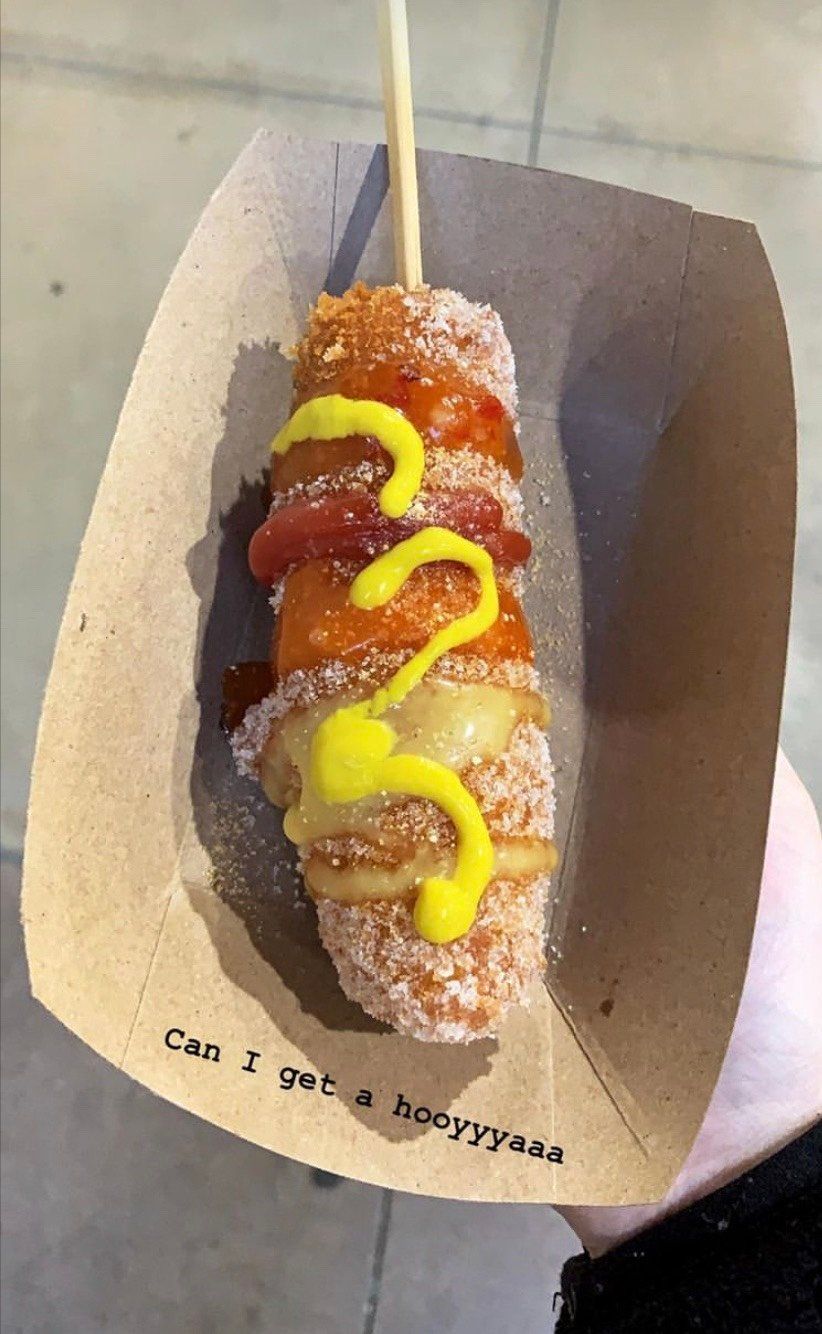 Elle Hong
Another street food trend that blew K-Town up into a wild social media frenzy. If you discovered the recent ASMR videos like me and spent some free time watching Asian girls in colored contact lenses bite into crunchy Korean style corn dogs then you would be motivated to wait 30 minutes in line to recreate it.
Although these corn dogs (or are they hot dogs on chopsticks?? You tell me) were fried to order and came with a gazillion different sauce options, mine undeniably came a bit soggy and too sweet for my liking (they roll them in sugar straight out of hot oil). Too bad I couldn't recreate that ASMR scene.
3. Honeymee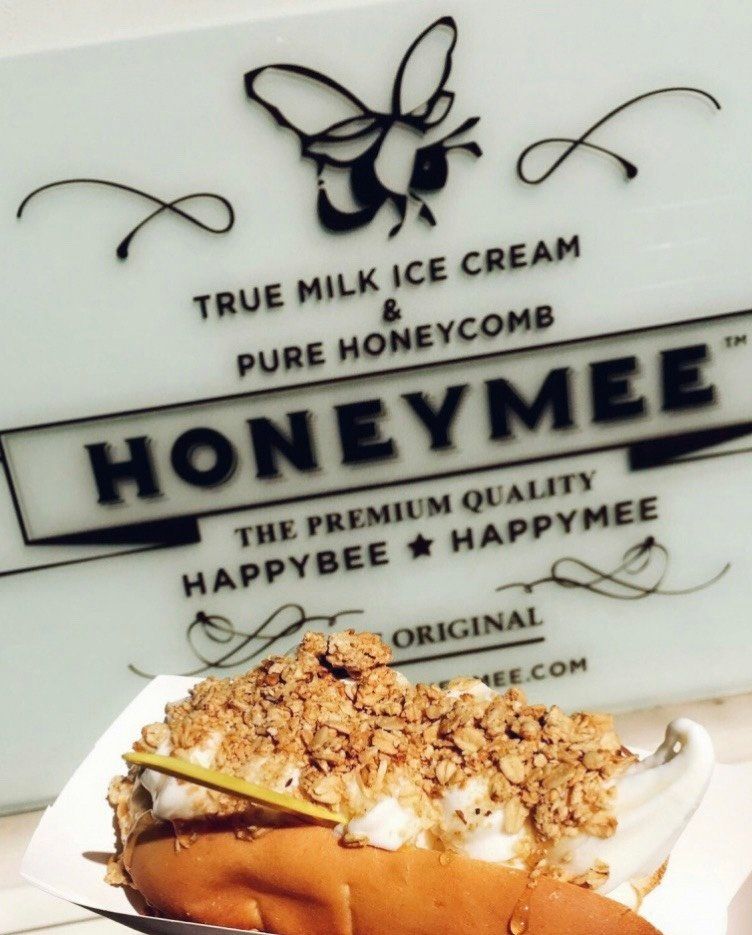 Elle Hong
Located right next to Boiling Crab (another K-Town Hot Spot), this place seemed like a pretty solid dessert choice after a huge meal. Unfortunately, their high-end prices do not match up with high-quality ice cream. True, their organic/non-pasteurized/God-blessed honeycombs taste pretty boujee but the soft serve? Honestly just tastes like straight up milk in the frozen state. I mean, shouldn't ice cream be sweet...?
They also have this ice cream dessert on a freaking HOT DOG BUN which I immediately regretted ordering, (as pictured). Did it once for the Insta but I doubt I'd do it again.
4. 85 Degrees Bakery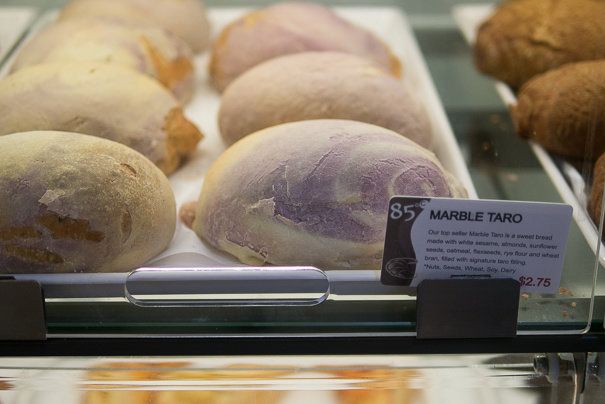 http://redtri.com/san-francisco/just-opened-85-degrees-berkeley/
The main issue with 85 Degrees Bakery is the problem of trying to do too much. Of course, we absolutely LOVE options. But the drink menu with its onslaught of boba milk teas, hot teas, espresso drinks, rose teas, blended smoothies, $0.85 iced coffee is way too hard to decipher.
As for the bread, there's a solid choice of great options (such as the $2 Chocolate Chip Bowl) but I do not repeat, DO NOT enjoy having Taro in a pastry form. Please leave Taro in boba milk tea, not swirled into a puff pastry. Please and thank you.
5. Hae Jang Chon KBBQ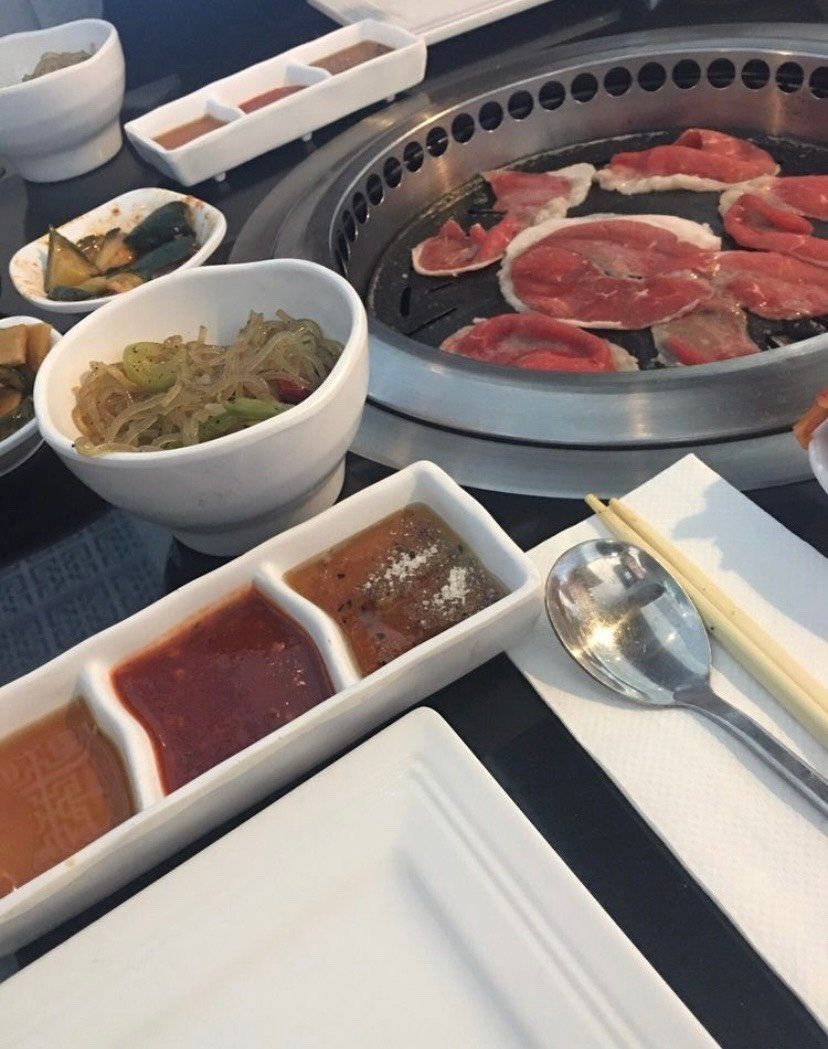 Elle Hong
I would say that I usually don't discriminate any KBBQ place, but I'm sorry y'all— I need to call this place a bit OVERRATED in my opinion.
Here's the catch: even if you make a reservation ahead of time, you're simply just added to the waitlist (usually about 5 pages on a Friday night) so basically you will still have to wait for a table no matter what. It's always packed and busy. Always.
Pretty great service but when it comes to the meat options, I wouldn't go out of my way to wait an hour. They sadly don't serve corn cheese or cheese fondue either. Tragic.